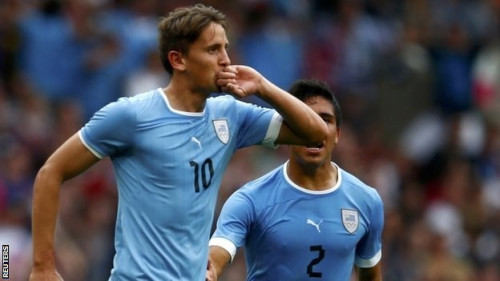 Italian side Roma are trying to take advantage of Southampton's difficult situation by signing Gaston Ramirez - after the resignation of executive chairman Nicola Cortese.
Southamtpon signed the Uruguayan attacking midfielder in the summer of 2012 after paying £12m to Bolonia to secure his services but Ramirez has failed to make the impact expected in the Premier League and he is considering a return to Italy.
Fiorentina, Genoa and Inter Milan have linked with him in the latest weeks and according to Italian newspaper La Gazzetta dello Sport Roma have joined the race to secure the midfielder's services.
With the impressive emergence of Adam Lallana and with Jay Rodriguez improving, Ramirez has played a bit-part under Southampton boss Mauricio Pochettino, starting just one Premier League game this season and he is willing to move away.
Roma are set to to take advantage of his lack of minutes and Southampton's turbulent situation by signing the Uruguayan for a cut-price deal.
However, new chairman Katharina Liebherr has recently claimed that Cortese's resignation will not going to affect the team and that Southampton will not sell any players during this January transfer window.
"The club has no plans to sell any of the squad during the January transfer window. The manager and the team have my full support," she said.
Nevertheles, Pochettino, who had already declared that he will remain at the club, has admitted that Cortese's departure may affect the players, with Luke Shaw, Lallana and Rickie Lambert also have been linked with a move this January.
"It's clear that it may affect the players as they all have varying degrees of relationship with Nicola Cortese, and of course his leaving may affect us in some way."