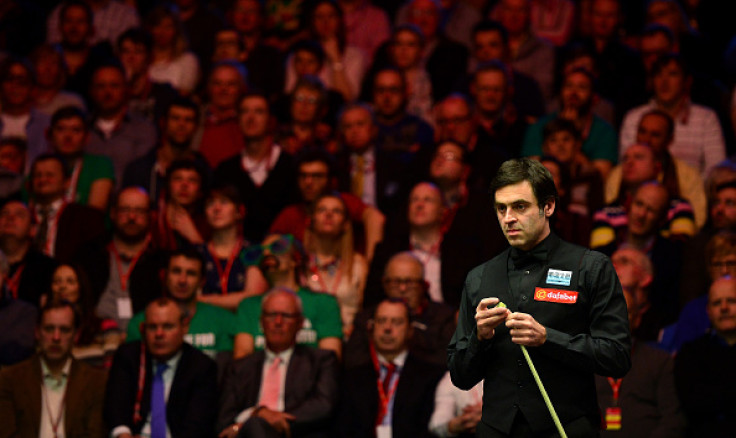 Snooker legend Ronnie O'Sullivan was at the centre of a controversy on Tuesday (16 February) when he admitted to turning down a chance for a 147 break at the Welsh Open, resulting in many fans and officials criticising the Englishman for his unprofessional behaviour.
The former world number one, who has the most maximum breaks in history with 13, did not go for the 14th one, opting to pot the pink ball instead of the black. He did this, he later explained, in protest of the poor prize money on offer.
O'Sullivan, who defended his actions, did admit that it would have been better if he had gone for the 147 break just to "keep everyone happy". Speaking to Talksport, O'Sullivan said: "I just got a bit excited I suppose. I can't help it, there's just a little devil inside of me sometimes.
"A lot of people complained about it, but a lot of others saw the funny side of it and saw that it was just a bit of fun. I'm just enjoying myself out there, and sometimes when you're out there playing it's all happening so quickly that you just don't realize what you're doing, really.
"Sitting here this morning, I probably wish I got the 147 and kept everyone happy and not had all this. But at the time I was just having a bit of fun with myself out there. It was like a mini challenge whether I could do it or not."
O'Sullivan admitted that his actions, on the other hand, got something talking about snooker. He said he loved the sport and had nothing negative to say about it.
"To make a 146 was still good! Getting slaughtered for having a 146 is a little bit harsh. Maybe I should start just making 20 and 30's and playing loads of scrappy horrible play. I don't think people would like that either."
He admitted that one could not win all the games and that it was hard to please everyone. "You just have to go out there and do your stuff and hope that people enjoy it for what it is. I'm 40 now and I'm just trying to enjoy every match, every tournament.
"I'm just trying to entertain snooker fans who have followed me throughout my career. I really appreciate that and I just hope I can give something back to them and be remembered as someone who entertained snooker fans all around the world."