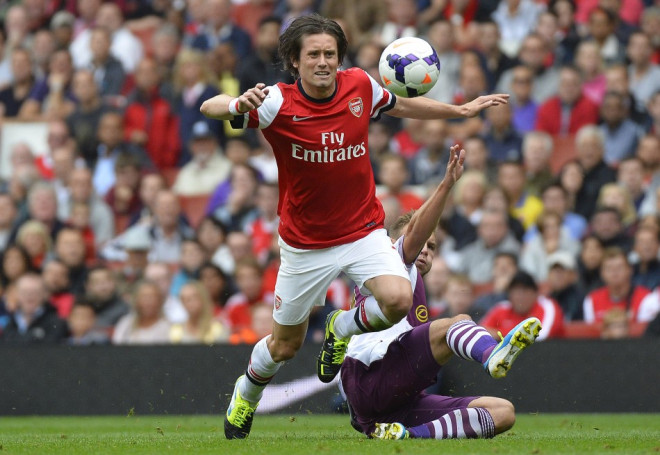 Tomas Rosicky believes that Arsenal have to match Stoke City's aggression if they have to come back with three points from the game.
The Britannia has not been a happy hunting ground for the Gunners in recent years, with both their last two games ending in draws.
However, with the title race getting tighter at the top, Arsenal have to make sure that they do no drop any points against clubs in the lower half of the table with a tough streak of fixtures awaiting them next month.
A win here will take them five points clear of Manchetser City, who are missing this week owing to their commitments in the League Cup and pile up the pressure on Chelsea, who play Fulham at the same time.
Rosicky, who scored a brilliant goal against Sunderland, is roaring to go and is confident that the Gunners have it in them to take three points from one of the most difficult places to visit in the league.
"[I'm expecting] a typical game when you go to Stoke. It's always very similar - they are a very physical side, very aggressive and it's a very tough place to go. All the away games are pretty similar so we need to be really well prepared [for a] physical and aggressive style of play. We need to match them in those attributes and, if we do that, we can be successful,"he told www.arsenal.com
"For me, [the crowd at the Britannia] doesn't matter at all. The atmosphere in the stadiums here in England is great anywhere you go, so that side doesn't bother me at all.
"What I'm thinking about is [what performance] we will produce on the pitch and if we will be as aggressive and strong as Stoke. If we do that, we can beat them," he added.
Meanwhile, Rosicky insists that he is ready to move into goalscoring positions but cannot neglect his defensive duties which have been entrusted to him this season.
"I would like to do that but on the other side, the most important thing for me is that the team functions well. I think that's why the boss plays me - because of my experience. If I see that there are already plenty of guys in front of me who are going into the box or are in the box already, I know I cannot go there as well," he concluded.