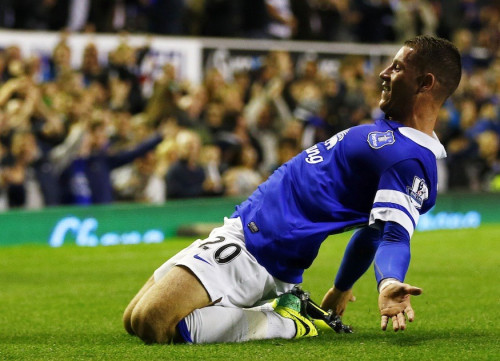 Everton midfielder Ross Barkley will take inspiration from England and Manchester United forward Wayne Rooney ahead of staging an assault on playing at next summer's World Cup finals.
The 20-year-old scored the winning goal via a superb late free-kick to steal a 2-1 victory over Swansea City on Sunday which saw his side move back into the top four.
"I told Romelu [Lukaku] to leave it because I saw the goal and thought, 'I'm going to score this'," Barkley said. "I don't even practice free-kicks in training!"
Both Barkley and his idol Rooney were born in Liverpool before joining Everton's youth set-up and being promoted into the senior squad as bright young players.
Barkley told the Sunday Times: "That's the thing every young player would want to do and that's what I want to do, play the way he [Rooney] played.
"He scored four [at Euro 2004] didn't he? Knocked out against Portugal. That's all everyone talked about all the time: Wayne Rooney. No fear, he just went out and played football. I'm focusing on doing well for Everton and the World Cup can be a bonus if I'm picked."
The Toffees have gone 10 games unbeaten in the league since October's defeat to Manchester City and Barkley added: "I think we've got to be looking at the top four because we've got a great squad. We should be going for those Champions League places. That's where I want to be playing.
"We have older heads and youthful players who aren't afraid to try things. That's the mix you want. Martinez's style is paying off. We go into every game believing that we can win - and everyone plays possession football, even the goalkeeper. The team's got no fear."
Barkley made his England debut against Moldova in a World Cup qualifier in September and has since won two further caps.
The midfielder hopes that his recent performances will earn him a place in Roy Hodgson's England squad and the opportunity to play alongside Rooney in Brazil; a challenge which will be bolstered should he help Everton finish in the Premier League's top four for the first time since 2005.