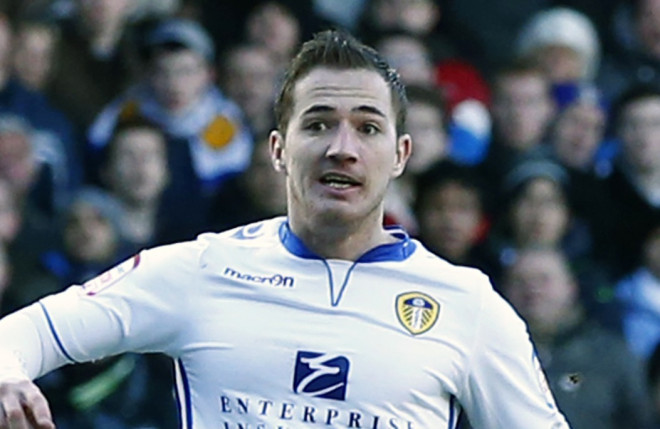 Leeds United captain Ross McCormack has denied asking to leave the club on deadline day of the January transfer window after learning of Brian McDermott's sacking as manager.
McDermott was reportedly dismissed as manager on 31 January before being reinstated amid the proposed takeover of Italian businessman Massimo Cellino, whose ownership is still to be ratified by The Football League.
McCormack was heavily linked with moves to West Ham United and Cardiff City in January but the Scotland international's close relationship with McDermott was said to be crucial in him remaining at Leeds.
However, upon learning of McDermott's apparent sacking hours before the window closed, McCormack gave an interview in which he appeared to regret remaining at Elland Road amid the managerial changes.
And McCormack, who was appointed Leeds captain at the turn of the year, has sought to clarify those comments and claims he never wanted to leave and maintains he was speaking on behalf of the entire first-team squad.
"It was surreal, a crazy day from start to finish," McCormack told The Daily Record. "I don't regret it. I spoke my mind.
"Despite what some people think, I never asked to leave. I'd just been made captain of Leeds which in my eyes is a big, big deal.
"I was just a bit baffled by what was going on. It was just silly. There were six of the boys in Noel Hunt's house and none of us could believe what was happening.
"I was speaking on behalf of the whole squad. They all had the popcorn out."
McCormack is single handily inspiring Leeds' promotion campaign this season but despite netting 23 league goals the club are eight points off the play-offs.
Speaking on Sky Sports News in January, McCormack appeared to regret staying at Leeds: "If I had known earlier on that this was going to happen I would have had a right decision to make. At the moment it's still very raw and I'm absolutely gutted.
"As there is only three hours left I just can't see anything from happening. The club have said they are not going to sell me, whether than changes over the next couple of hours or not, we'll see.
"I'm lost for words, I can't believe it. It's the last day of the transfer window, I can't believe what has happened."