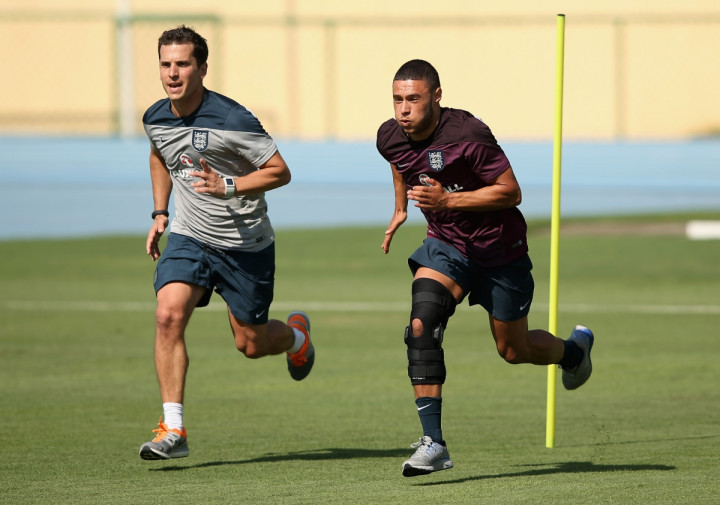 Roy Hodgson is hopeful Alex Oxlade-Chamberlain will be fit to return for England's second World Cup group game against Uruguay.
The Arsenal midfielder, 20, suffered a medial knee ligament injury in last Wednesday's warm up game against Ecuador but has returned to training this week ahead of the start of the competition on Friday.
The Three Lions boss is still unsure how close Oxlade-Chamberlain is away from full fitness but set the record straight regarding his captain Steven Gerrard, who did not complete a training session on Monday.
"There is nothing wrong with Steven Gerrard," Hodgson told a press conference. "Alex Oxlade-Chamberlain did very well, you may have seen the running he was doing. Very positive, he was running so well and so fast and we will be stepping up his recovery in due course.
"A job for me to say when he will be back, medical matter. We are hoping for Uruguay but no guarantee."
England get their campaign underway against Italy on Saturday night in Manaus and the England boss went on to explain his side's preparations on the training pitch will begin to ramp up as they edge closer to their curtain raiser.
"Today for the first time we want to have a more intense training session. I am sure as the week goes on, you will see a build-up in the intensity.
"I don't think you will see an enormous difference in the way teams play because of the conditions. What we have to do is play our football and make sure the 14 players are able to play our football in these conditions."