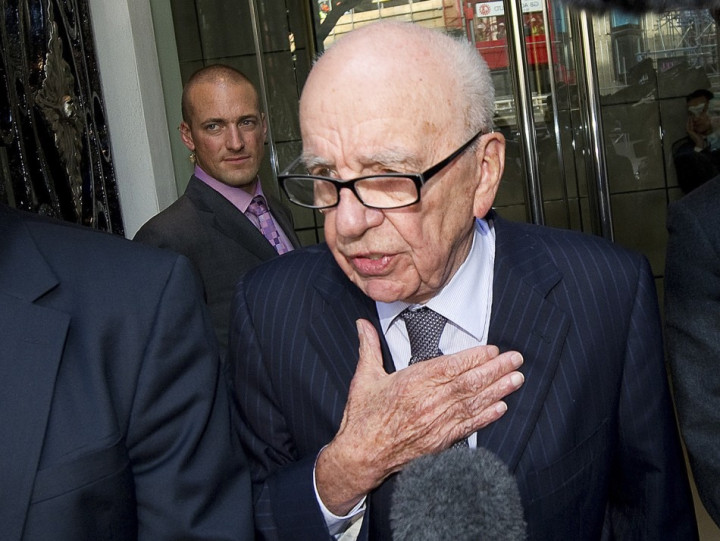 Rupert Murdoch must go from his position as chairman of media behemoth News Corporation, an 18-strong group of News Corporation investors have said in a co-signed letter to the octogenarian mogul.
Plagued by the phone hacking and police bribery scandal infecting Murdoch's UK newspapers business, as well as having his domineering relationship with politicians cast under a spotlight by the Leveson Inquiry into press ethics and MPs, some investors feel he must step down to protect the company.
"We believe it is important for News Corporation to uphold the highest standards of corporate governance in order to protect the value of our investment," read the letter, signed by the likes of insurance giant Aviva and the Swedish national pension fund.
"Given the recent reputational, legal and regulatory risks brought about by allegations of phone hacking and payments to police officers by News Corporation subsidiaries in the UK and subsequent investigations in the UK and the US, we believe the board is in need of independent leadership."
The investors hold 13.4m Class A shares in News Corporation, which gives them fewer rights than their Class B holding counterparts. It means they are unable to submit a formal motion at the upcoming AGM in October
There have been numerous arrests of News International journalists since the outbreak of the phone hacking scandal in 2009.
Three police investigations have been launched - operations Weeting, Elveden, and Tuleta - into allegations of phone and email hacking, and inappropriate payments to police officers.
In 2011 the News of the World, a News International-owned British Sunday tabloid, was shut down by Murdoch amid revelations that someone working for the paper hacked into the voicemails of murdered schoolgirl Milly Dowler.
High profile arrests include former Sun editor Rebekah Brooks and ex-NotW editor Andy Coulson, who also worked as director of communications for Downing Street before resigning when he was implicated in the phone hacking scandal.
News Corporation revealed that it is splitting into two businesses, separating entertainment and publishing.
"The board's announcement of its intention to split the company into separate media and publishing arms presents a unique opportunity for serious governance reform," said the investors' letter.
"Appointing an independent Chair at News Corp and its successor companies will go a long way to restoring shareholder confidence."
The separation is expected to take a year to complete.
While News Corp's Fox subsidiaries, which include cable sports and film production, continue to deliver significant profits, the company's newspapers, such as The Times of London, struggle in a rapidly evolving environment for news businesses.
"There is much work to be done, but our Board and I believe that this new corporate structure we are pursuing would accelerate News Corporation's businesses to grow to new heights, and enable each company and its divisions to recognize their full potential - and unlock even greater long-term shareholder value," Murdoch said in a statement.