Anti-Kremlin feminist punk collective Pussy Riot has released a searing critique of Russia's prosecutor general Yuri Chaika in a pop-music video, featuring lyrics referring to allegations of corruption surrounding him and his family.
The YouTube video, titled Chaika, stars Nadezhda Tolokonnikova, who was jailed in 2012 for staging an anti-Putin performance in a Moscow cathedral. The video is a pastiche of Russia's jails, and depicts torture, hooded prisoners and a golden loaf – a symbol in Soviet times of corruption – all under the watchful gaze of a portrait of Vladimir Putin. Chaika was at the centre of an investigation by Russian anti-corruption campaigner Alexei Navalny, which accused him and his two sons of enriching themselves through their ties with the notorious Tsapok gang.
The lyrics that Tolokonnikova raps include: "You wanna get away with murder? Be loyal to your boss", and she also sarcastically says: "I love Russia, I'm a patriot, But I could live in Switzerland as well".
The slick production is at odds with the group's previous performances, where often law-enforcement officers would arrest them after a few minutes. The video is filmed in a Soviet-era banquet hall as well as a disused jail, with Tolokonnikova and her dancers dressed up in the blue uniforms of Russian prosecutors. Tolokonnikova said the video was a response to how those who are connected to power manage to syphon off wealth from Russia.
"[The state] doesn't care about the standard of living of Russian citizens. Nor about education, the environment or about the development of science or industry," she said according to the Guardian.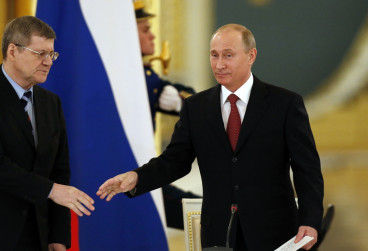 Her husband, Pytor Verzilov, who handled the group's PR, said he did not expect as much of a backlash against the video as there was with their actions in February 2012. Back then they barged into Moscow's main cathedral and performed the song Mother of God, Chase Putin Away. The stunt sent Tolokonnikova and another member to prison for two years.
Verzilov told Time magazine: "Putin never harboured the illusion that he could just let his opponents rot away in prison. He operates according to the demands of the moment."
Putin was asked during a press conference in December whether the prosecutor general should at least be suspended pending investigation. The president said: "It's unnecessary. I'm very careful with these individuals."
The video by Navalny making allegations against Chaika has already been viewed five million times. It alleges that Chaika's sons Artem and Igor had built up a massive business empire using their father's network of regional prosecutors to crush rival companies. The English-language version of Navalny's video came out last month and has been shown to a group of British MPs.
Chaika has denied the allegations made against him in the video, calling them an attempt to smear him.