A member of the Russian punk band Pussy Riot has apparently been arrested again, during protests in support of Kremlin critic Alexei Navalny.
Maria Alyokhina tweeted on @MashaAlekhina account that she had been arrested, along with around 100 other people who took part in the Moscow demonstrations.
Alyokhina was among a large group of people who occupied a giant Christmas ball near Red Square, and promised they would "occupy the globe" until dissident activist Navalny was freed, according to the Guardian.
Police swooped in on the protest at 8am local time. Alyokhina told news site Mediazone that "they came from two directions, took everyone's documents, and then literally used their arms to drag us out.
"I consider all those who came out and spent the night in the ball to be heroes. It was -20°C."
Earlier, Alyokhina had released a video in support of the protest, featuring women sweeping snow before becoming witches and riding away on broomsticks.
Alyokhina and her Pussy Riot bandmates, Nadezhda Tolokonnikova and Yekaterina Samutsevich, became international icons in 2012 after they were arrested and jailed for staging a "punk prayer" in Moscow's Cathedral of Christ the Saviour.
The group's incarceration became a cause celebre for rights activists, with international stars such as Madonna speaking out against the perceived injustice of their sentence.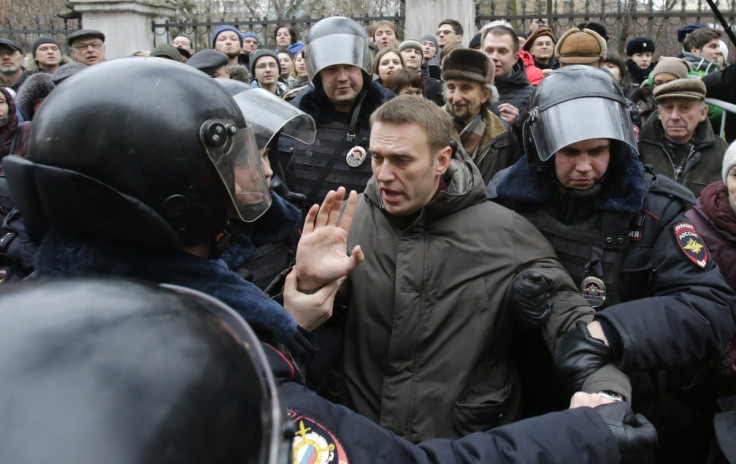 Moscow has witnessed huge protests since Navalny, one of Vladimir Putin's most prominent critics in Russia, received a three-and-a-half-year suspended sentence for fraud early yesterday morning [30 December].
Huge crowds have gathered in Moscow to decry the punishment, chanting "free Navalny" and "free Russia" in protest at what they see as oppression from Putin and his government.