Russia hails pilot as national hero for killing himself with grenade to avoid capture in Syria
Major Roman Filipov, who was shot down by rebels in Idlib, detonated a grenade after killing at least two fighters.
A Russian pilot downed by rebel fighters in Syria is being hailed as a hero after killing himself with a grenade to avoid being captured.
In video footage shot by the jihadists, Major Roman Filipov is heard shouting "This is for our guys!" before detonating the grenade. The 33-year-old was "fighting the rebels until the last minute" and detonated the explosives as fighters surrounded him, the Russian Defence Ministry said.
Filipov's fighter jet was hit by a missile fired by Al-Qaeda-linked jihadist Al Nusra Front in Idlib, Syria while flying at 4,000 meters (13,123ft). The pilot ejected from the Sukhoi 25SM fighter jet after it was hit from a portable surface-to-air system, the Ministry said in a statement seen by the channel RT.
When Filipov landed, he remained in radio contact with the Russian airbase in Khmeimim, Syria. The pilot reported shooting and killing two jihadists with his hand gun before he pulled the pin on his grenade killing himself and reportedly killing more rebels.
Filipov's final words were caught on video shot by Al Nusra Front fighters. He is heard saying, "This is for our guys".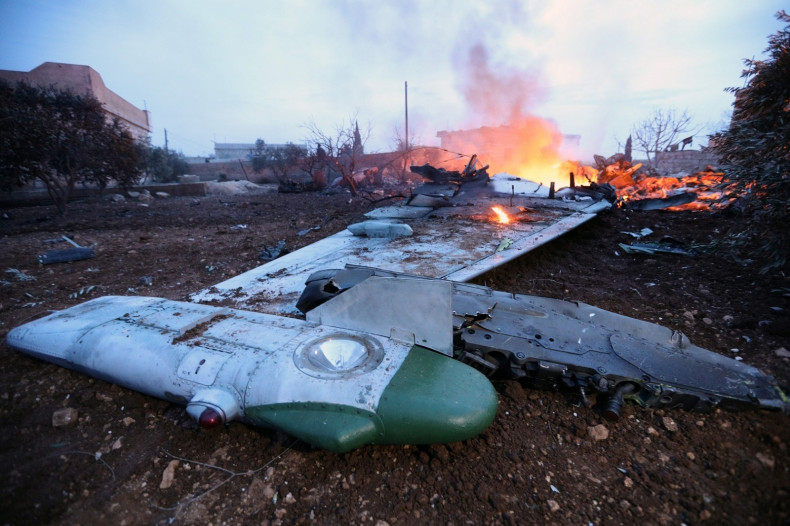 Kremlin spokesman Dmitry Peskov said it was too soon to know who had supplied the weapons systems used by the rebels to shoot down the fighter jet. Peskov noted that it was very worrying that the rockets had fallen into into the hands of "terrorists".
Earlier reports suggested Filipov had been captured by rebel fighters or that he had been killed in the plane. It later became clear that he had taken his own life when detonating his grenade.
According to the Daily Mail, Syrian and Russian forces are reported to be on the ground in a bid to retrieve the pilot's remains. Filipov leaves behind his wife and a four-year-old daughter.
The pilot, from Vladivostok, was awarded the Kremlin's highest honour, the Hero of Russia medal, posthumously.