The Muslim convert British son of a Hollywood film director who joined an al-Qaeda-linked terror group in Syria has urged others to join him in the fight against President Bashar al-Assad.
In a new propaganda video purporting to have been shot in a rebel-held area of the country London-born Lucas Kinney speaks in Arabic alongside other armed men dressed in army fatigues.
The 26-year-old has joined the Syrian al-Qaeda-linked Salafist group Jabhat al-Nusra, also known as The al-Nusra Front or Jabhat Fateh al-Sham.
Kinney stands with his face exposed during the clip and follows other appearances in propaganda videos posted online under his nom de guerre Abu Basir al-Britani.
He was the first white British convert to join the group, designated a terror organisation by the US and the UN.
Kinney was born in Hammersmith, West London, to his CofE British mother and his British/American Roman Catholic father.
His father, Patrick Kinney, worked with Steven Spielberg on Indiana Jones And The Last Crusade as assistant director and one of the Rambo films.
His mother Deborah Phipps, 53, said as a teenager, Kinney toyed with the idea of becoming a priest and played in a series of rock bands.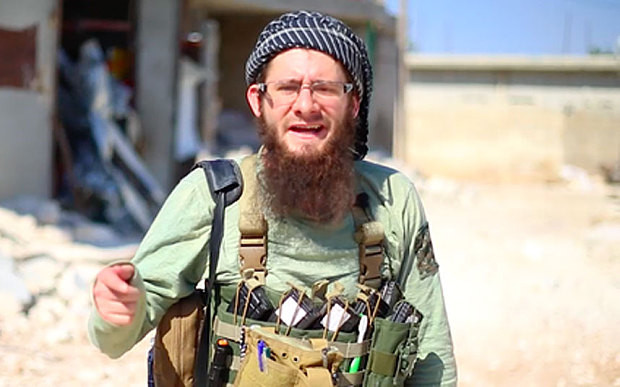 Phipps said her son may have been radicalised when he went to live with his father in Vienna, after dropping out of Leeds University.
Phipps says she still receives occasional emails from her son and worries that he is a target for US and RAF drones as well as al-Assad and other rebel groups like Isis.
"Lucas is a target. I'm glad he's associated with al-Qaeda rather than IS, but obviously I worry," she told the Daily Mail.
She added: "I last heard from him recently. I don't get anything for months and months and then all of a sudden I get an email and every time I think, 'Well, at least he's still alive'. That's the relief.
"He's married out there. I don't know anything about her. They don't have any children as far as I know, but this is recent, the last few months.
"We just want him to come home. If he's done something wrong I'd like him to accept the consequences. He's still young – and at least he's still alive."