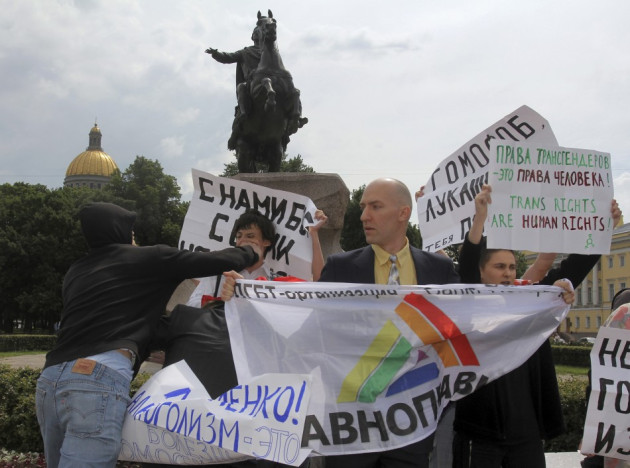 The bill was proposed by Putin and Medvedev's ruling United Russia party and passed in St Petersburg on Wednesday by 27 votes to 1. There was one abstention.
It prohibits "public actions aimed at propaganda of pederasty, lesbianism, bisexuality and transgenderism among minors," with a maximum fine of $1,600.
LGBT activist group, All Out, have launched a campaign against the bill, saying it will "make millions of people invisible with the stroke of a pen."
They claim the ambiguity of the law will be readily abused, and will effectively "make it illegal for any person to write a book, publish an article or speak in public about being gay, lesbian or transgender."
Nikolai Alexeyev of GayRussia.ru has described the legislation as a "disgrace", reports Associated Press.
"It theoretically allows the ban of anything anywhere where kids could be present," he said.
Homosexuality was decriminalised in Russia in 1993 and the country is a signatory to numerous international human rights treaties banning the discrimination of lesbian, gay, bisexual or transgender individuals. Despite the legal ban being lifted, public opinion still remains predominently homophobic in Russia.
British political campaigner Peter Tatchell in 2007 was assaulted by an ultra-right activist in Moscow while participating in a gay pride march. The Moscow authorities had previously banned the march, which was to celebrate the 14th anniversary of the decriminalisation of homosexuality in Russia. The mayor of Moscow called such acts the work of "satan."