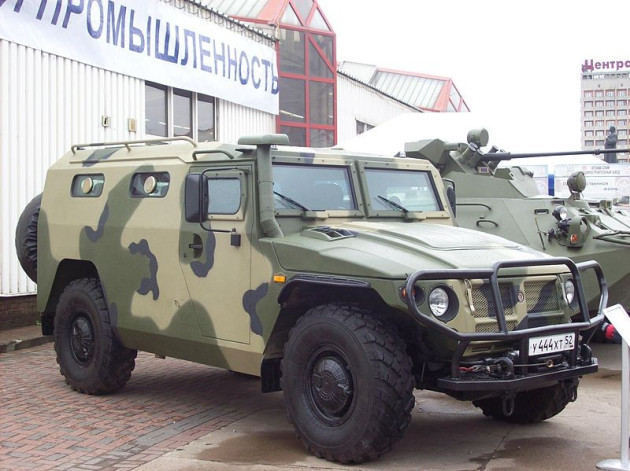 Russian vice-prime minister Dmitry Rogozin has traded in his BMW for a Tiger troop carrier in a business booster for home-grown military vehicle manufacturers.
The Military Industrial Company has received an order for a customised version of its armoured GAZ-2330 Tiger from Dmitry Medvedev's No 2.
"I have long said that the Russian defence industry is capable of making good-quality non-defence goods," Rogozin, who is in charge of the defence industry, tweeted. He said Russians should turn their backs on foreign-made "trophy" models and buy domestic instead.
It is common for Russian owners of German cars to put a label in the rear of the vehicle window reading "War trophy" or "To Berlin" in reference to Russia's victory over Germany in World War II, Russia Today reported.
At $100,000 (£62,000) for the basic unarmoured version, the Tiger features telescopic shock absorbers, regulated-pressure tyres, independent torsion suspension and a powerful turbocharged engine that can propel the vehicle through water 1.3 metres (4ft) deep. Whether the vehicle, nicknamed the Russian Hummer, can cope with Moscow's traffic, however, is another matter.
Needled by some critics about the vehicle's cost, Rogozin said he would pay for it out of his own money even though he would be using the Tiger for official duties.
One Twitter follower praised him as a patriot and said: "He is a great example for all Russian officials."
President Valdimir Putin recently ordered a redesigned Soviet-era ZiL limousine, a favourite of former leaders such asLeonid Brezhnev and Mikhail Gorbachev, and ditched his Mercedes.