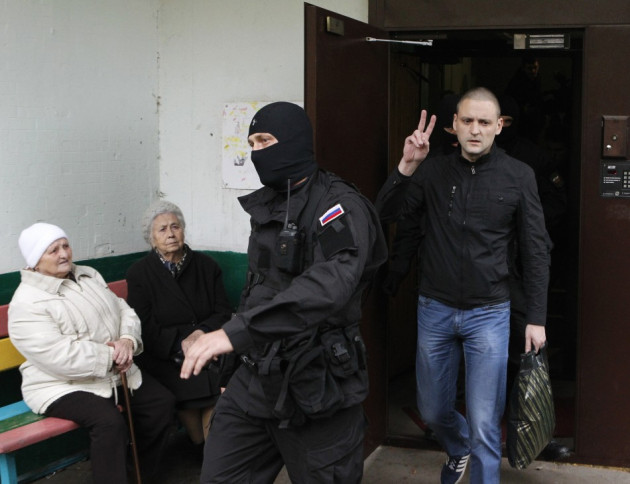 Russian authorities opened a criminal probe against one of the country's most famous anti-Putin activist accusing him of preparing mass riots to overthrow the government.
Armed policemen wearing ski masks searched the house of Sergei Udaltsov, 35, the leader of opposition's Left Front movement, after a documentary broadcast by a pro-Kremlin TV station alleged he had been plotting with Georgian officials to stage mass disorders across Russia.
Udaltsov has organised many anti-government protests in the last year and is a well-known figure in Russia.
His parents also had their home searched by security forces, after Gazprom-owned NTV aired a documentary titled "Anatomy of a Protest 2" that claimed Udaltsov met in Minsk, Belarus, with the chairman of the Georgian parliament's Committee for Defense and Security, Givi Targamadze and the Georgian consul to Moldova, Mikhail Iashvili to raise $200m in funds for organising riots in Moscow.
"It was established that the voice on the video shot -- including the footage made by a surveillance camera -- and used in the film 'Anatomy of Protest 2' belongs to Udaltsov," the Russian Investigative Committee said.
Udaltsov, who was taken to the Russian Investigative Committee's headquarters for questioning, denies the allegations, saying the documentary was doctored.
"It's a wave of new repression. I'm going to hold on until the end, and I won't be quiet," Udaltsov told reporters.
Last week, Targamadze told Georgian media he had never met Udaltsov. The former Georgian government led by Mikheil Saakashvili had cut diplomatic relations with Putin's government after a five-day war over the Georgian breakaway region of Ossetia in 2008.
Authorities also sent a warning to other opposition leaders and said they will prosecute not only Russians, but also Georgians and citizens of other unspecified countries guilty of organising riots in Russia.
"Those who think they can with impunity organize riots, plan and prepare terrorist attacks and other acts that threaten the lives and health of Russians, you underestimate the Russian special services' professionalism," the committee said.
If convicted of preparing riots Udaltsov can face up to 10 years jail.
A further two opposition leaders that appeared in the documentary had their flats searched by police and face similar charges.