Russian spy vessel spotted off US East Coast for second time in a month
The Viktor Leonov was sailing 20 nautical miles from the US navy's submarine base.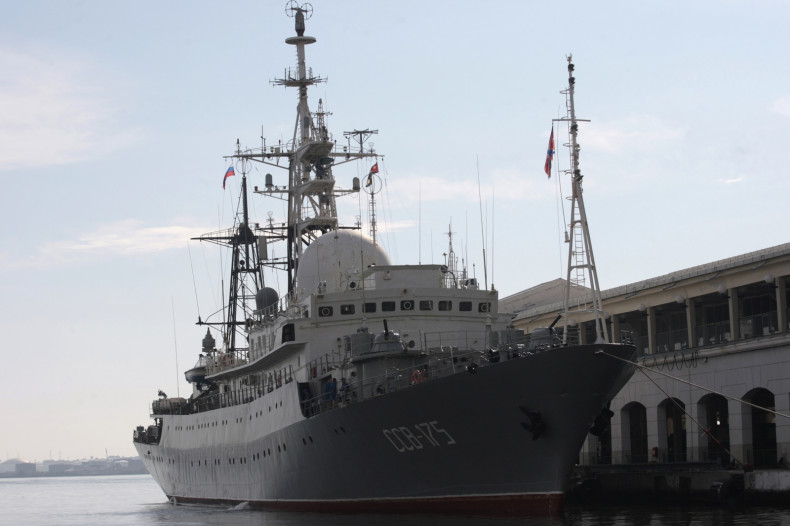 A Russian spy vessel has been detected off the US East Coast for the second time in a month. US officials say the Viktor Leonov was spotted off the coast of Georgia sailing close to a naval submarine base.
The 300-foot spy ship, known as the AGI (Auxiliary, General Intelligence) trawler, was spotted about 20 nautical miles off Georgia some time on Wednesday, 15 March. Officials insisted that the ship's transit through international waters was perfectly legal. US territorial waters extend 12 nautical miles from the shore.
An official told CNN that the ship, equipped with a wide range of sophisticated surveillance equipment, was heading north when it was sailing close to Kings Bay near the Florida border – the base where the US Navy's Atlantic fleet of ballistic missile submarines are stationed.
It was reported that the ship was docked in Cuba before it began its journey towards the US coast. Officials suspect the Vishnya-class spy vessel would make another trip close to US waters before it finally heads to Jamaica, where the ship is scheduled to make a port call in mid-April.
"They are reverting to Cold War tactics that we, because of close encounters, sat down and structured an agreement with them to prevent untoward accidents. They are spying. Now having said that, it's perfectly acceptable under international norms to do that as long as they don't penetrate in our territory, in our waters, while they're doing it," said retired Admiral Bob Natter, who previously led the Atlantic fleet.
The same ship was spotted by the US navy in February sailing about 30 nautical miles off the coast of Connecticut. It was one of a series of close military encounters between Russian forces and their western counterparts in the recent past.