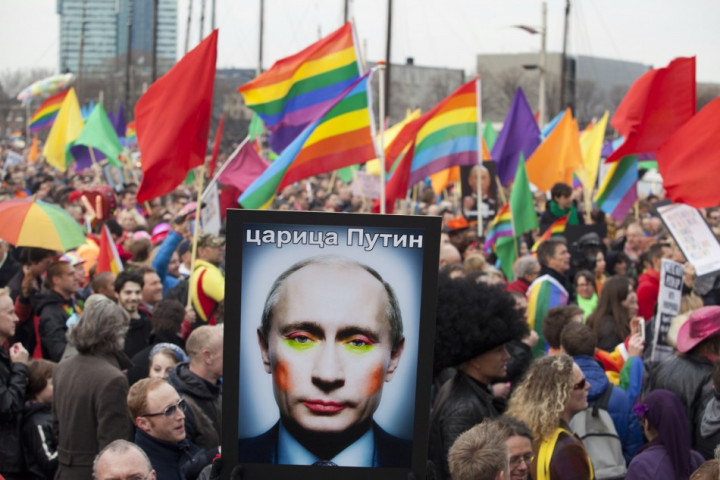 The brutal death of a 23-year-old man in Russia's southern city of Volgograd in an apparent homophobic attack has put the spotlight on rising violence against gay under president Vladimir Putin's neo-conservative rule, according to gay activists.
The man was beaten, sexually assaulted with beer bottles in his anus, set on fire and had his head crushed with a heavy stone by a 22-year-old man and a former convict, aged 27.
"He was raped with beer bottles and had his skull smashed with a stone," Natalia Kunitskaya, a spokeswoman for the Volgograd region branch of the Investigative Committee, told AFP.
Andrei Gapchenko, a senior investigator in Volgograd, said one of the suspects had admitted torturing the victim.
"Four young people were drinking ... And one of them already knew, he'd heard from others, that he (the victim) was of an untraditional sexual orientation," he told Reuters.
"He asked him the question and the victim said yes .. After that, one of them hit him, he fell to the floor, and then they brutally beat him, set fire to the clothes he was wearing, slashed his anal area and then stuck three bottles in there, again beat him and then threw a 20-kg stone onto his head."
The victim's naked body was found in the courtyard of an apartment building in Volgograd. Kunitskaya admitted the attack has been a hate crime, in a rare admission from authorities on the issue of homophobia in the country. The victim apparently had been drinking with the two men, while celebrating Victory Day, which is national holiday in Russia.
Putin, who has stoked traditional religious values since he came back to the president's post last year, aims to give the Orthodox Church - a staunch opponent of homosexuality rights - a more public role as ma moral authority in Russia.
A law banning the spread of gay "propaganda" could be passed this month. The bill outlaws "propaganda of sodomy, lesbianism, bisexuality and transgenderism" targeted at minors.
Acts of open same-sex affection, even a kiss, and events promoting gay rights will result in fines of up to 500,000 roubles (£11,000) under the new legislation. Russia's foreign minister Sergey Lavrov said the bill would protect the majority of Russians from discrimination by gays and lesbians.
Madonna was fined in August 2012 for speaking out in favour of gay rights in St Petersburg after the city government passed legislation - dubbed which she dubbed a "ridiculous atrocity" - that imposed fines for spreading "homosexual propaganda" that could "damage the health, moral and spiritual development" of minors.
Civil rights activists said a nationwide law could be used to halt gay rights demonstrations and oppress the LGBT community. Although homosexuality was decriminalised in Russia in 1993, prejudice against it remains high.
Gay rights campaigner Nikolai Alexeyev said the law amounted to to "a call to action for the scum who committed this crime".
"It essentially gives these people carte blanche to commit such crimes," he said of the law.
However, there are no official figures on anti-gay crime in Russia, as most cases go unreported or are not classified as hate crime by police.
Lawyer Maria Kozlovskaya, who works with the LGBT community, points to an internet poll late last year that found 15 percent of about 900 LGBT people surveyed in Russia said they had been physically attacked at least once in the previous 10 months.