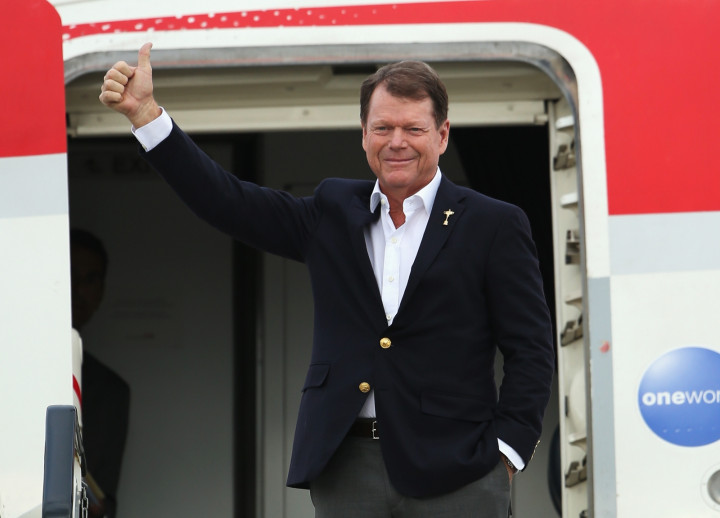 Tom Watson's United States Ryder Cup team have begun their preparation for Gleneagles after touching down on Scottish soil ahead of the match against Paul McGinley's European team.
The 12-man USA team, accompanied by their respective partners, arrived at Edinburgh Airport on Monday 22 September and will travel to Gleneagles for the first time as a group ahead of an official practice session on Tuesday.
Watson will captain a USA team looking to win the Ryder Cup on European soil for the first time since 1993 and, despite coming up against a team spearheaded by world number one Rory McIlroy, the 65-year-old golfer is confident of success.
"Everyone is in great spirits," Watson told Sky Sports upon arriving in Edinburgh. "Several hours before the plane took off, we all got together and had a nice little chat with everyone before the journey.
"Now we're on solid Scottish ground we're looking forward to the matches coming up this week.
"It's the culmination of two years since being asked to be the captain and now with the team in place we're looking forward to some spirited matches with Paul's team."
During the three days of official practice at Gleneagles, Watson's primary task will be to finalise his pairings ahead of the opening foursomes and fourballs on Friday 26 September but the skipper said many of the combinations have already been decided.
"We've looked seriously into our pairing and we're looking forward to it," he said. "I don't think there's any rocket science, we'll be pairing people up who have been paired before and they have to go out and do what they have to do.
"One of things about the Ryder Cup is it brings so many people in the world of golf together; it is one of the major golf events in the world and to be here and be part of it is an amazing experience already.
"On paper we're underdogs but I can tell you the spirit of this team is anything but. I believe that we can win."