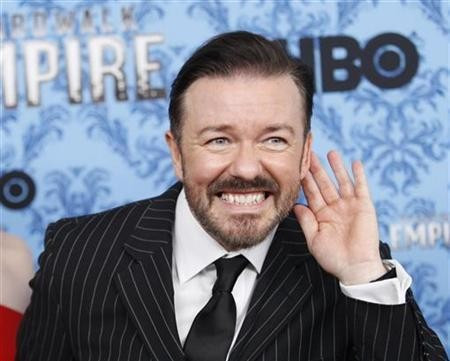 Ricky Gervais will host the Golden Globes for the third consecutive year, it has been officially announced.
The Hollywood Foreign Press Association (HFPA) voted to bring Gervais back amid some criticism. A group of 83 entertainment journalists from around the world took part in the voting, in which the majority chose his return to the stage. Despite causing a ruffle last year, the controversial acid-tongued British comedian will yet again be the host of the Golden Globes.
During the previous year's show, he had taken digs at Robert Downey Jr, John Travolta and Charlie Sheen which didn't go down well with many Hollywood A-listers. The then HFPA president Philip Berk even issued a statement saying: "He definitely crossed the line."
"And some of the things were totally unacceptable. But that's Ricky… I had absolutely no idea what Ricky was going to say so anything I heard was heard was the same time you heard it," Berk said at the time. "When you hire Ricky Gervais, you expect the unexpected."
A statement posted on HFPA's website read: "After weeks of rumours it's finally official – Ricky Gervais will be back to host the Golden Globes for a third year."
The statement continued: "While many welcome Gervais's return, not everyone is happy with the decision because last year his blunt one-liners targeting big-name celebrities caused anger and resentment in some quarters."
Gervais took to Twitter just minutes after the news broke: "Just told Billy Crystal he'd better not use any of my holocaust or pedophile material at The Oscars. He agreed (true)" -- including a link to a photo of the Globes and Oscar hosts standing together outside."
The Golden Globes will be aired on January 15 2012 on NBC.