Four years ago Fernando Torres was the most lethal striker in world football. Now he's forced to endure the ultimate ignominy: being even less productive than Mario Balotelli.
Torres went to Milan in search of a new challenge, in a less demanding league with less pressure on his shoulders. However, after 10 appearances the old master has mustered just a single goal – in his second match during the 2-2 draw against Empoli.
The Spaniard loses out in the stats comparison with practically every major big-name European striker, and his return is a far cry from the nine goals Balotelli produced when he himself signed for Milan, back at the start of 2013.
Perhaps most jarring of all for Torres, he loses out in the comparison with his former self, the lethal iteration who was king of the Kop at the end of the noughties.
All this begs the question: just what has happened to El Nino?
There are plenty of precedents in the world of football; players who scaled the heights of the game in their teens and early 20s going into a painfully premature decline. Another Spanish legend, Raul, cut a sad figure in his final years at Real Madrid, and Kaka and Robinho have long been reduced to also-rans, trading off their past glories. Even Lionel Messi seems to have passed his peak at the age of 27.
Torres himself had a meteoric rise at from wonderkid to superstar at Aletico Madrid, becoming an idol for their supporters when he was just a kid. Not just any old kid, but The Kid.
After securing promotion to La Liga With Los Colchoneros and being their top scorer during five consecutive seasons, his real explosion arrived at the Premier League.
During three and a half years at Liverpool the Spaniard tormented the Premier League's defenders and scored 81 goals in 142 matches - while at the same time leading Spain to victory in Euro 2008, netting a goal in the final, and the World Cup in 2010.
Chelsea broke the British transfer record by paying £50m for his services in January 2011. Torres had achieved everything except trophies at Liverpool, and arrived at Stamford Bridge at the age of 26, an age when he should have been at his best.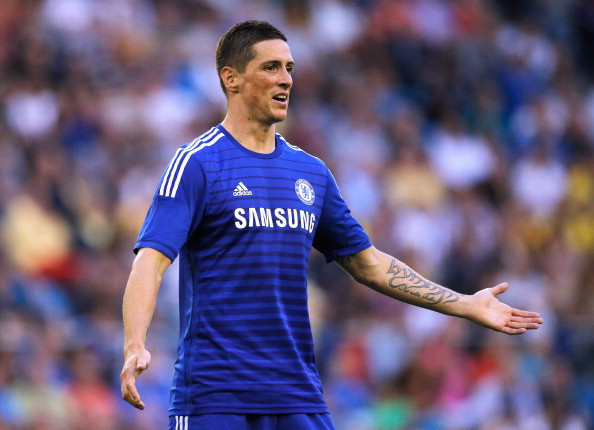 But even though he won the trophies that eluded him at Anfield, including the Champions League, Torres always looked like a pale replica of the man who lit up Anfield, always running to catch up with his own reputation... and never quite winning the race.
Apart from a last-minute goal against Barcelona to seal Chelsea's place in the Champions League final of 2012, and key strikes in the Europa League victory of 2013, his three and a half seasons in West London were more than disappointing.
Neither Carlo Ancelotti, Andre Villas-Boas, Roberto Di Matteo nor Jose Mourinho managed to revive him. So in the summer Chelsea accept the failure and almost gifted him to Milan.
The Italians had already tried to resuscitate other superstars like Rivaldo, Ronaldinho or Kaka in recent years. None of them reacted to the kiss of life, however, and Torres's start to the life in Italy is even less promising.
Nevertheless, the Spaniard still has Filippo Inzaghi's trust and time enough to prove the doubters wrong. But Inzaghi, who was himself a brilliant striker,will not wait forever. If Torres can't things around (and if Atletico don't offer him a lucrative retirement home), he faces the abyss of some start-up super league in Asia or America, hardly a fitting stage for a player of his talent.