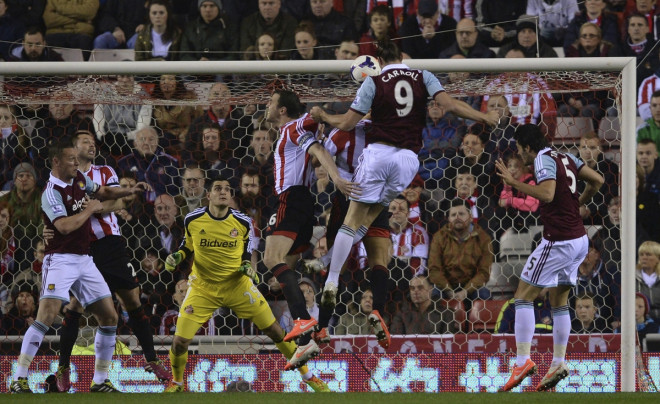 West Ham United manager Sam Allardyce is optimistic Andy Carroll will be included in Roy Hodgson's England squad for the World Cup finals in Brazil after the 25 year old continued his injury return with a goal and assist in the Premier League win at Sunderland.
Carroll has missed much of the season with a heel injury but has played 10 times since returning in January, scoring twice and registering four assists to help The Hammers cement their top flight status.
Amid an injury ravaged two years at Upton Park, the first term on loan from Liverpool before a permanent switch last summer, Carroll hasn't featured for England since October 2012 but is being considered by Hodgson for a call-up this summer.
With only Wayne Rooney, Daniel Sturridge and Danny Welbeck assured of a place in the England squad, Hodgson will be looking to fill the void and Allardyce is hopeful Carroll can win a recall.
"There are six games to go and I think if he continues to score, if he scores anything like he did last season - he scored eight in the last 12, I think - if he gets another two or three or four goals, I think it will hopefully be difficult for Roy to ignore him," Allardyce said after the 2-1 win at the Stadium of Light.
"There are not a lot of them today, unfortunately. I used to play against them every week, Andy Carrolls, when I played many years ago. There used to be one in every side.
"But there's a quality with the size and the stature of the man. It's not just a heading ability, it's an all-round quality that he has.
"He's quicker than he looks, some good hold-up play off the chest at times, takes the ball with his feet, he's got a terrific shot on him.
"He's superb in the air and he's young, so hopefully he keeps on not growing stature-wise, but growing in terms of his experience and his ability to stay fit and becomes an even better player than he already is."
Victory over relegation threatened Sunderland puts West Ham 11 points adrift of the relegation zone and all but assures them another season in the Premier League.
Carroll became West Ham's record signing and highest paid player after penning a £15m deal worth a reported £100,000-a-week in the summer but has been available due a heel problem for barely half of the campaign.
West Ham now sit three points behind 10th place Stoke City and are targeting a late assault on a top half finish and Allardyce has lamented Carroll's absence.
"It's a bit scary to think where we might be if we'd had Andy all season," he added. "We didn't have him all season last season and finished 10th; we have had him even less this season.
"We are now 11th, we are one point behind our last year total, so we have 37 points and this time last year, we had 38, we have had our best run of results since we have been back in the Premier League.
"Since Andy and the other players got fit - and I always said coming on the back of January, 'Once our players are all fit, watch out, we will be okay, we will win football matches'.
"The form we are showing at the moment is proving that. It's been an outstanding run from the players and an outstanding achievement."