Samsung admits to using tin from Indonesia's Bangka Island in its products, where mining is unregulated and dangerous to the communities living there, following a campaign from Friends of the Earth.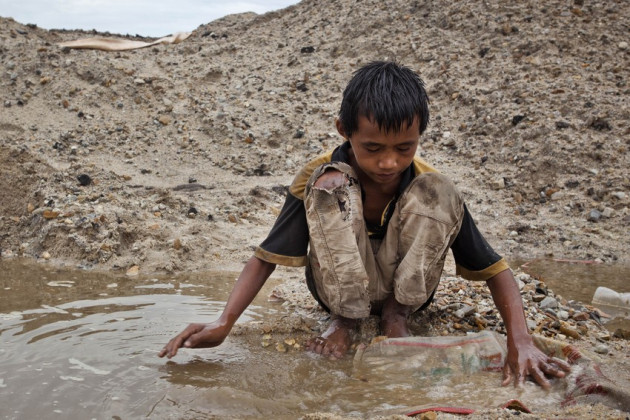 Tin mined from the island of 625,000 inhabitants is used by many electronics manufacturers in the solder used to create circuit boards. Each smartphone and tablet made by Samsung contains between 1g and 1.3g of tin-rich solder. The mining destroys tropical forests, kills coral and "wrecks lives", says Friends of the Earth.
Following pressure from the charity's Make it Better campaign and more than 15,000 concerned individuals who contacted Samsung, the world's largest smartphone maker admitted to using tin mined from Bangka Island and has pledged to work with its suppliers to find a better solution.
In an email sent to the charity and concerned customers - and confirm by Samsung to IBTimes UK - the company said it is "undertaking a thorough investigation of our supply chain in the region to better understand what is happening, and what part we play."
"While we do not have a direct relationship with tin suppliers from Bangka Island, we do know that some of the tin that we use for manufacturing our products does originate from this area, and as a responsible business we are contacting suppliers, industry bodies and governments...to find solutions."
Almost half of all mined tin is turned into solder for the electronics industry and around a third of the world's tin is from the Indonesian island of Bangka and the smaller Belitung. Mining there is unregulated and allegations of child labour in the mining sector are rife, the charity claims.
Craig Bennett, FoE's director of policy and campaigns, said in a statement: "It's great Samsung has taken an industry lead by tracking its supply chains all the way to Indonesia's tin mines and committing to taking responsibility for helping tackle the devastating impact that mining tin for electronics has on people and the environment.
"Millions of us love our smartphones and couldn't do without them - we want to be able to love the way they're made too."
Bennett said that Apple must now follow suit and come clean about its whole supply chains, right back to where and how construction materials are sourced.
According to FoE, tin mining on the islands is "dangerous and unregulated" and is killing workers. Police figures for Bangka show that in 2011 an average of one miner a week died in an accident, the charity claims.
Other than the danger to workers, tin mining dredgers and boats cloud the local waters, killing seagrass eaten by turtles and 70 percent of Bangka's coral reefs, which drives fish away, ruining fishermen's livelihoods.