Key Features:
Samsung Ativ Smart PC
11.6in PLS display (1366 x 768)
Windows 8
13.5hrs battery life
Intel Atom processor w/ 2GB RAM
128GB SSD
Weighs 750g (tablet only)
Samsung Ativ Smart PC Pro
11.6in PLS display (1920 x 1080)
Windows 8
8hrs battery life
Intel Core i5 processor w/ 4GB RAM
128GB SSD
Weighs 884g (tablet only)
Samsung announced its first step into the Windows 8 operating system at IFA this week, including a pair of convertible tablets with keyboard docks - the Ativ Smart PC and Ativ Smart PC Pro.
We got a first look at the Ativ Smart PC shortly after Samsung wrapped up its Unpacked keynote and what immediately struck us is how top-heavy the tablet/laptop hybrid feels.
Weighing in at 750g overall, the Ativ Smart PC is around 90g heavier than the new iPad, while it's bigger brother, the Ativ Smart PC Pro is heavier still, tipping the scales at a bulky 884g.
The weight really shows and the tablet weighs considerably more than the keyboard dock which it connects to, causing the device to fall backwards while adjusting the screen angle - although it was being manhandled by a pack of eager journalists at the time, so sitting on your desk it should be ok.
We also got a look at the very similar Vivo Tab from Asus earlier in the day, and you have to say the Vivo Tab felt like a higher-quality product, with the glossy plastic finish of the Samsung Ativ tablets making them feel a little cheap.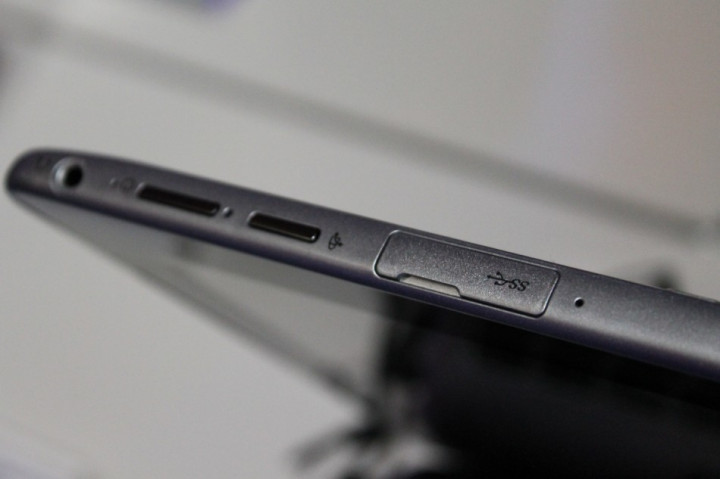 The Smart PC and Smart PC Pro are near identical on the outside, although the Pro version carries that extra weight and is 2mm thicker. On the inside the standard Ativ Smart PC makes do with the latest Intel Atom processor, while its bigger brother gets a more powerful Intel Core i5 chip.
We only got a few minutes with each device, so it's impossible to say yet how the two compare in terms of performance, but we're pleased to say that both offered bright and crisp 11.6in screens, and the keyboard docks provided good feedback.
Those keyboard docks house all of the Ativ Smart PC's ports, which include two USB 2, one USB 3, mini HDMI and microSD.
When we first saw the Asus Transformer Pad we weren't convinced that the tablet/laptop hybrid could work, but IFA this year has proved manufacturers think we are wrong, and that they are keen to back the concept.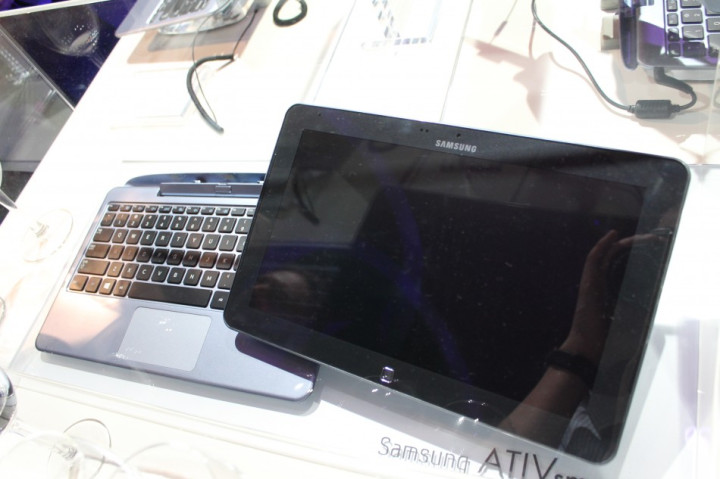 Time will tell if laptop and tablet users are ready to make the jump and accept the extra bulk of a keyboard for the increased practicality and battery life.
IBTimes UK will have in-depth reviews of the Ativ Smart PCs as soon as they become available, although Samsung is yet to announce a price or release date.
Must read:
IFA 2012: Everything you need to know