Key Features
4in screen with resolution of 480 x 800 and pixel density of 233 per inch
Android Gingerbread with TouchWiz
1GHz dual-core processor
5-megapixel camera
Built-in projector
Price: £385 SIM-free
Samsung Galaxy Beam: Introduction
The Samsung Beam is Samsung's answer to a problem that, frankly, may not even exist. If you have ever found yourself in a position of having to project a PowerPoint presentation without a projector handy, you can now use your phone. Finally, an on-the-go projector, the answer to many of our prayers...
Forget about endless slideshows of your grandparents' summer holiday, the Beam presents itself as the perfect solution for mobile business people who want to project to their heart's content.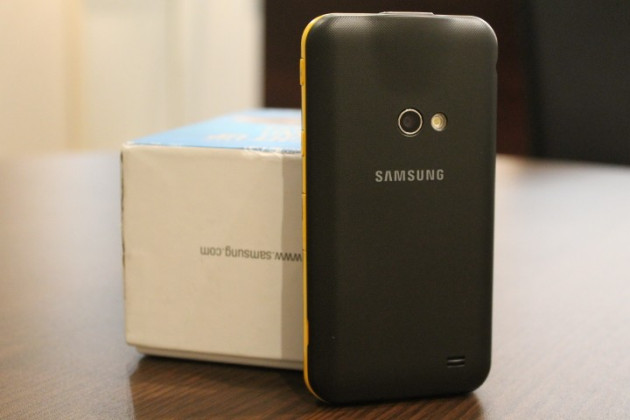 Samsung Galaxy Beam: Design and Feel
With a 4 inch display, the Beam feels like the ideal size for a phone. Samsung has understood that super big screens are not necessarily what matters and has proven this with the announcement of the S3 Mini.
The headline feature for the phone is, of course, the projector. The projector is placed at the top of the phone, which means the earphone jack has been pushed to the side. If anything, that makes for a very awkward placement and is somewhat impractical.
The back camera and flash have been pushed down a bit and find themselves nearer the middle of the phone, not an ideal position for when you want to take pictures - your fingers end up in the way if you're not careful - but considering there is a projector in the phone, Samsung did the best it could.
The Beam only comes in one combination of colours - charcoal and yellow - which is a nice change from the usual white or black we see on most smartphones.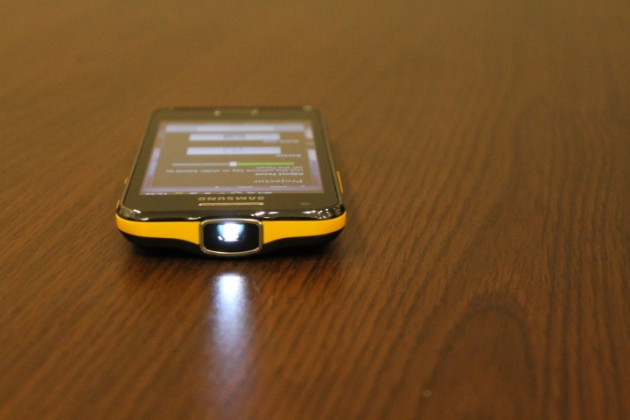 While Samsung usually opts for shiny plastic with a fake, chrome-like band, the Beam has a bright yellow band - probably trying to replicate the idea of a light beam - and the charcoal plastic is texturised to make the phone easy to hold.
This is a nice change for Samsung phones, the plastic feels somewhat less cheap than the S3 and others. The change seems to come from a desire to make the phone less slippery on smooth surfaces. While the phone still slides a bit, it stays in place much better in comparison to an S3 for example.
At 145g, the Galaxy Beam is fairly light consider its bulky design and integrated projector but, as with most Samssung phones of late, it can't help but feel cheap, with plastic used everywhere. And because it is all plastic, it just feels like a toy walkie talkie. Retailing at £385, it is a little steep for something that feels so cheap.
Samsung Galaxy Beam: Display
Just looking at the phone, something strikes very fast: it doesn't have a show-stopping screen, it is not the slimmest on the market, or the lightest, and the display is rather average. If it didn't have a projector, this would be at best a mediocre phone with a sky-high retail price. If this were the Galaxy S3 with a projector, people would get talking, but so far, there isn't much to be impressed about.
Apart from the projector, the phone has all of the standard hardware features. Back camera and flash, front facing camera above the screen, speaker also above the screen, home button below the screen with two touch-sensitive buttons either side, power button on the right hand side, memory card slot, volume control on the left hand side and the projector power button.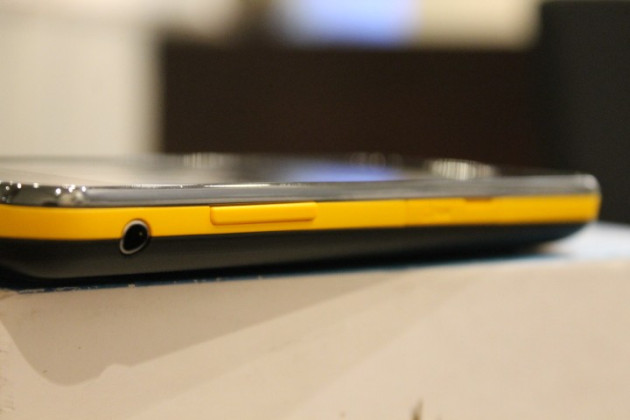 The phone itself offers 8GB internal memory, but you have the possibility to have more storage thanks to a micro SD memory card. 8GB is on the lower end of the spectrum for smartphones these days, with the iPhone 5 starting at 16GB for example. Considering you'd expect users trio store films on the phone to be projected, 8GB is a little low.
Samsung Galaxy Beam: Operating System and Performance
The Beam runs on Android 2.3 Gingerbread, so in terms of operating systems, it is not running the latest version. Given that the Beam is only a few months old, it's a shame that it won't be treated to any newer versions of Android, but at least it gets Samsung's TouchWiz 4.0, which we've always been a fan of.
The interface is slick and responsive, and we're sure most users won't mind that they're not using the newest Android - although for those that do care, this could well be a deal-breaker. With Jelly Bean now out, the Beam's operating system is a full two generations old already.
The Beam has a 1.0GHz dual-core processor with just 768MM of RAM, so it already feels outdated on that front. We accept that this is now longer the newest phone on the market - and maybe such a processor only feels slow compared to the speed of smartphone development - but the Beam's performance is something of a letdown.
Around the back, The Beams has a 5-megapixel camera with LED flash and auto-focus, and there's a 1.3-megapixel camera in the front.
We wouldn't mind so much if Samsung sold the Galaxy Beam for around £200 to £250, as the projector is fun, but at almost £400 we were hoping for much more - and it's a real shame that it misses out on Ice Cream Sandwich.
Samsung Galaxy Beam: Projector
The headline feature is of course the projector. And for a projector on a phone, it's pretty great. The only issue really is how often do you really need to carry a projector around?
In a dark room, the projector is perfect. Crisp image, nice focus, easy to set up and can be made big enough granted you have the space to place the phone far enough away from the wall.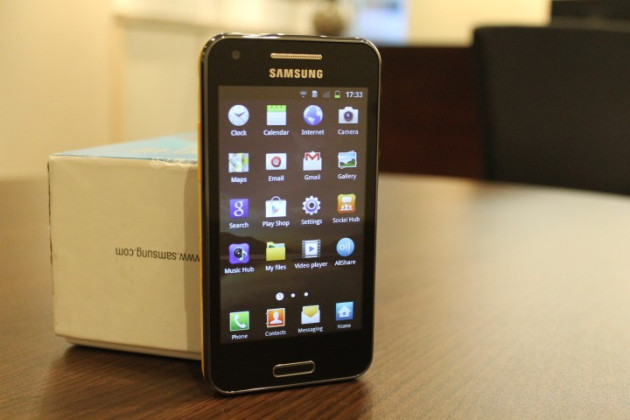 You can project anything you want. You can show whatever is on your screen, navigate through your pictures, project slideshows and documents and even add real-time handwritten notes as you project. Just don't expect an incredible battery life; a few slideshows and a couple of YouTube videos later and you will have to charge again.
Since you can project what is on your screen, you can also project what your camera is showing. This means if you want to show a piece of paper or something physical to a room full of people - or even just your mum and dad - you can by simply pointing the camera to it. This does mean, however, you have to hold your phone in order to do this, or find a way to secure it in the air without magic.
Another fun feature is the "mood setter". You pick images to project - either photos or simply pre-loaded pictures - select a time limit and some music and you have your own multimedia show. This is a little reminiscent of a clueless boy trying to impress his girlfriend by setting some sort of installation in his bedroom, but the idea works. If you have nothing else to do, you may as well lie in bed, staring at the ceiling.
There is one big flaw with the Beam though, and that is that the phone will not stand on its own. Let's say you do want to project something on the ceiling - hey, why not - unless you find a way of securing the phone, it will fall over. You can always hold it in your hand, but that gets tedious after about a minute.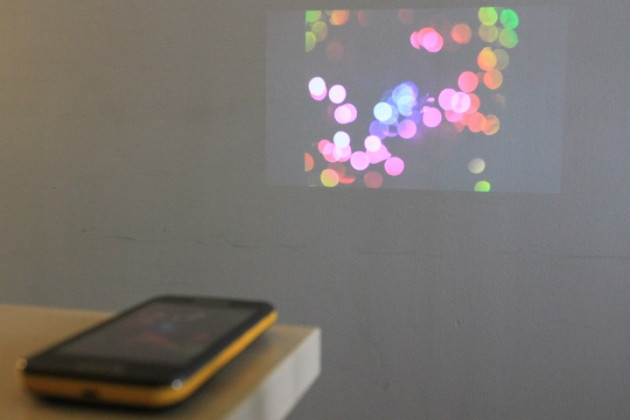 Samsung Galaxy Beam: Verdict
Strip the phone of its headline feature and it's probably one of the blandest phones on the market today. All of the features are average at best and don't make for much excitement.
The only reason you would ever want to buy this is for the projector, and at £385 a pop, this will make you think twice.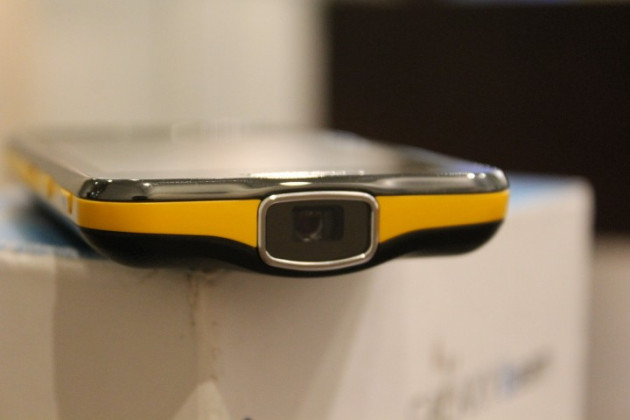 If this were a better phone, with much more exciting specs, then it would be worth it, but unless you are 100 percent sure you will make use of the projector - and that is more than once or twice for fun - you may want to pass and just look into a better phone in that price range, or a similar one for a lot less.
Scores
Display - 6/10
Performance - 7/10
Build quality - 7/10
Camera - 6/10
Overall - 6/10