When we reviewed the Samsung Galaxy S3 back in June we were convinced that it was too big for a phone as it's very difficult to type on with one hand - we argued that phones had reached their peak and could not get any larger. Turns out we were wrong - and not for the first time - as Samsung's enormous new Galaxy Note 2 boasts a screen 0.7 inches larger than the S3, measuring in at 5.55in.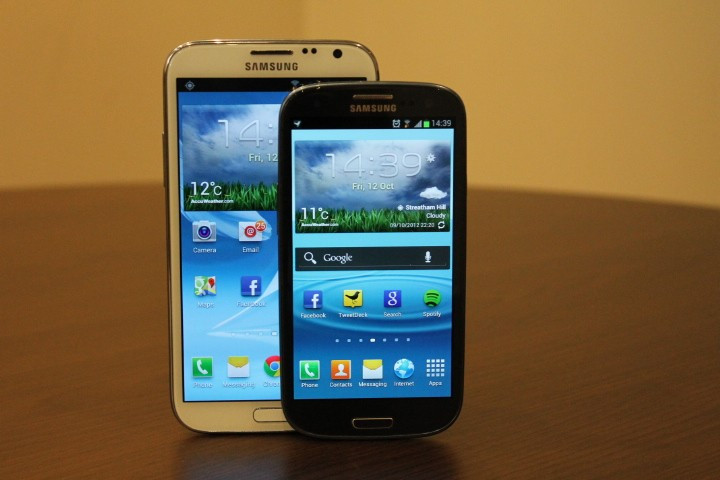 While these two devices aren't aimed to compete directly against each other - the S3 is an iPhone rival, while the Note 2 is somewhat unique, perhaps knocking on the door of the Google Nexus 7 and other small tablets - we're going to compare them anyway.
Galaxy S3 vs Note 2: Design and Feel
Samsung's current range of smartphones and tablets all have a very similar feel and look about them, - all available in glossy white or blue, the S3, Note 2, Note 10.1 and upcoming S3 mini are all plastic, with a metal-look band around the outside edge and a single Home button on the front.
The Note 2 and Galaxy S3 look incredibly similar - save for the size difference, obviously - and both share the same button and port layout; this means a lock/power button on the right, volume rocker on the left, a headphone jack at the top and a microUSB port for charging and syncing on the bottom.
Samsung has given the Note 2 asn S-Pen, which tucks neatly into the lower-left corner, and while it works on the Galaxy S3, such a stylus is not included with the smaller phone - indeed, the defining feature of the Note is it's stylus.
Around the back, both phones have identical 8-megapixel cameras with autofocus and an LED flash - both have identical 1.9-megapixel front-facing cameras, too. The S3 has its spaker up by the cameras, but for the Note 2 Samsung has relocated it lower down, as you can see if the photo above.
That back plastic panel can be removed from both - and it feels equally cheap and flimsy on both models - revealing a micro SIM and microSD card slots, along with a removeable battery.
The Note 2 gets a huge 3,100mAh battery, while the Galaxy S3 makes do with a 2100mAh.
Make no mistake here, both phones are large and difficult to handle in one hand, but spend a week with either and you start to wonder how you lived with anything smaller. Moving from the S3 back to our 3.5in iPhone 4S felt like a huge step back, as did the step from the Note 2 down to the S3 - you get used to both sizes quicker than you'd think.
At 183g the Note 2 is 50g heavier than the Galaxy S3 and you can certainly feel the larger phone;s extra bulk, but this is all down to the bigger screen and battery - the two devices are almost exactly the same thickness, with just 0.6mm separating them, with the Note being the larger.
Galaxy S3 vs Note 2: Performance
On paper the two devices - as you might well guess - are very similar. Both are powered by a quad-core processor, but the Note's is clocked at 1.6GHz, slightly faster than the 1.4GHz S3.
The Note 2 also wins on RAM, with 2GB compared to the S3's 1GB of memory - and as for storage, both devices can be had with 16, 32 or 64GB and both accept microSD cards of up to 64GB.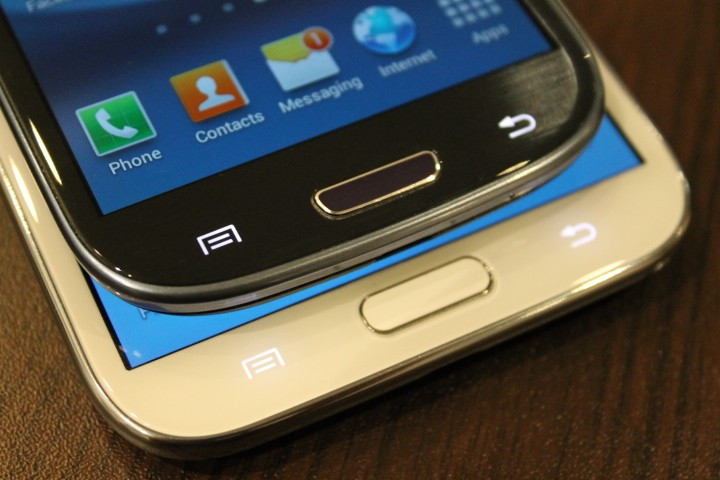 In the real world, performing general tasks - browsing, social networks, music, camera etc - both phones perform incredibly well. These really are two of the best smartphones on sale today, and certainly two of the most powerful.
Both phones shrugged off anything we had to throw at them, with ease, and both multitask perfectly - it'll be several months, maybe even a year, before we start to see highly demanding 3D games that run better on the Note than the S3, thanks to its slightly higher performance.
For now though, it's another dead heat, with both phones able to do anything you want, just about instantly.
Battery life is something we feel separates the two Samsung Galaxy's. Although it has a larger screen and more powerful processor, the Note 2 has noticeably more battery life than the S3, thanks to the extra 1000mAh battery capacity mentioned earlier.
A full day (of average use, Wi-Fi and 50% screen brightness) is doable by both, but the S3 will really struggle to get through that second day, whereas the Note 2 should see you through to at least the second evening.
Right now it's nine hours since we unplugged our Note 2 at 100 percent and we've been using it for a call, some texting, Twitter and Facebook notifications, two push email accounts and the recording of an hour of audio, and it's still at 64 percent - the S3 wouldn't be faring as well by now, so a charger by your desk is a must, as with most smartphones.
Galaxy S3 vs Note 2: Display
Finally something to separate these two. The screens of the S3 and Note 2 are both AMOLED and are therefore prone to making everything look slightly blue and cold - the use of blue in Samsung's TouchWiz Android skin intensifies this, but it's not a major problem, but a quirk of the display tech used here.
Both have a resolution of 720 x 1280, but because of the extra size of the Note its pixel density is 267 per inch, a little down on the S3's 306, although you'd be hard-pressed to notice the difference without using a microscope.
The biggest difference here is, of course, the size. The S3's screen measures 4.8in and the Note 2 is 5.55, and this makes a considerable difference to a) how you use the device and b) what it's used for.
We think the S3 is large for a phone, but the Note 2 is more than just a phone, it's halfway towards a tablet and packing a stylus suggests that there's more to it than simply being a bigger phone.
Jotting down notes, doodling and turning the phone 90 degrees to display both your inbox list and an open email at the same time are things only the Note can do.
It's a smartphone, and then some. A phone that does a very good job of being a tablet - and a pocketable one at that. Sure, it's not an iPad (or a Galaxy Tab 10.1, if you insist) but it does a very good job of being both smartphone and tablet.
Galaxy S3 vs Note 2: Cameras and connectivity
It'll come as no surprise to hear that both phones have exactly the same front and rear cameras, and exactly the same amount of wired and wireless connections.
There's microUSB, headphone jack, micro SIM card slot, NFC for contactless payments, Wi-Fi a/g/n, Bluetooth 4.0 with A2DP for streaming music to wireless speakers, and 4G LTE (where available, with will be EE in the UK soon).
The above is a good range of connections and covers pretty much everything you'd ever need - the differences here are quickly boiling down to size, a stylus and nothing else.
Galaxy S3 vs Note 2: Operating system
The Note 2 is one of the very first Android devices to come with 4.1 Jelly Bean out of the box, and while the older Galaxy S3 original came with 4.0 Ice Cream Sandwich, it can now be updated to Jelly Bean.
Both builds of Android are smothered in Samsung's home-made TouchWiz theme. It's a skin that we like here at IBTimes UK, but we know some consumers prefer the original Android operating systems as Google intended them to be - such as on the Asus Transformer Pad Infinity tablet, for example, or the Google Nexus smartphone.
After several years of rapid development, we now feel that Google has bridged the gap between its Android and Apple's iOS - both systems do everything you want them to, they are both easy to use and flexible.
The old differences still ring true, however, and you'll find iOS to offer the larger choice of applications and games, but Android is more customisable.
Both phones can do Pop-up Play, a feature that lets you watch video - either streaming, or stored on the device - in a separate window which can be moved around, while the operating system underneath remained fully functional.
On the S3 it's clever, but takes up a lot of space - whereas on the larger Note 2 there's enough room to place the video window in one corner and still see a lot of your text conversation, Twitter feed or whatever.
Galaxy S3 vs Note 2: Verdict
As you've probably noticed, it's very difficult to say categorically that one phone here is better than the other. Instead, Samsung has on offer two (just about) equally powerful and competent smartphones which are both at the very top of the range.
It comes down to how you want to use your phone. if all you need is a phone, then the Galaxy S3 is one of the best on sale today, alongside the smaller iPhone 5.
But if you want to do more, if you want to take notes on the screen, browse websites with less scrolling and last more than one day, then it's the Note 2 you should buy.
The S3 has very stiff competition from HTC and Apple with the One X+ and iPhone 5 respectively, but the Galaxy Note 2 is in a class of one. No other manufacturer has dared to dream as big as Samsung, and for that the South Korean company must be applauded.
Speaking of Korea, the original Note was a huge success there, where plus-size mobile phones are all the rage. We expect the Note 2 to sell just as well there, and maybe even cause a stir here, where we've already seen several Note 2s out and about just a week after it went on sale.
Choosing one over the other is entirely down to personal preference. If the bigger screen and stylus fit into your life - and you don't mind your pocket being full - then the Note 2 is excellent.
But if handwriting on your phone doesn't appeal, the Galaxy S3 offers 95 percent of the Note, but in a smaller, easier to hold package.