Announced at this year's Mobile World Congress (MWC) event at Barcelona, Samsung Galaxy Note 10.1 is yet to see a market release but The Brave Post, a Korean Blog, managed to get what is claimed to be a retail version of the device. Along with revealing technical specification, the blog has published a few photos of the forthcoming Galaxy Note 10.1, reports Android Police.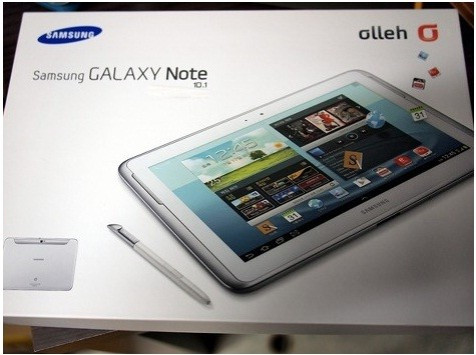 As far as the specifications are concerned, the Galaxy Note 10.1 as its name suggests, is expected to be featured with a 10.1in display with a resolution of 800x1280pixels. The device, according to the blog, will sport a five megapixel rear-facing camera and 1.9 megapixel front camera. The camera will be capable of capturing full HD (1080p) video. Besides, the device will offer Wi-Fi, HSPA+, Bluetooth and GPS. The Note 10.1 is expected to run on Android 4.0 (Ice Cream Sandwich) operating system.
What is interesting about the upcoming Galaxy Note 10.1 is that it will be powered by Exynos 4412 quad-core processor clocked at 1.4GHz and not with 1.4GHz dual-core processor as noted in the press release of the product. This is a similar processor which powers the international version of Samsung Galaxy S3. What is even more striking is Note 10.1 will come offering huge RAM at 2GB unlike 1GB mentioned earlier.
The Note 10.1, according to the leak, is expected to offer internal storage space of 16GB and support microSD card slot for additional storage. It will also feature a 6.5mm S Pen. The device will be powered by a huge battery of 7000mAh. The device is said to carry a feature which will enable it to function as a companion to your phone and work as a speakerphone; it also allows users to send and receive messages. The specifications, as GSMArena states, are said to be the Korean version of the Galaxy Note and the global version may carry slightly different features.
When it comes to the official release date, there is not much information but it could be 15 August. Samsung Electronics has sent out invitations stating it will make a major announcement on 15 August at an event that will take place in New York. The Galaxy Note 10.1 is hotly anticipated, according to a report by CNET.