Samsung has finally annoucned that it will launch its latest Android tablet, the Galaxy Note 10.1, this week in the UK, with 16 August set as the release date.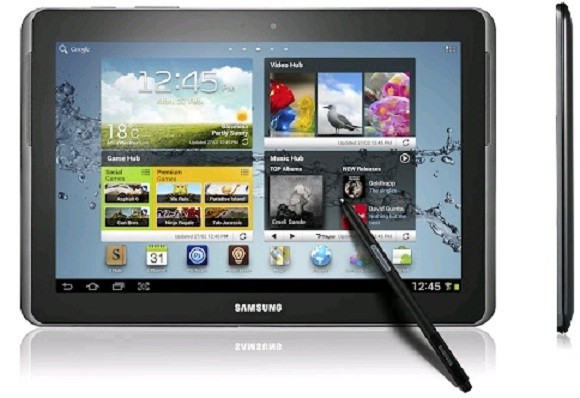 The South Korean technology giant tweeted on its official Samsung Mobile UK account stating the Galaxy Note 10.1 will go on sale in the UK from 16 August, at the company's Westfield store located in Stratford.
This is the same store where the Samsung Galaxy S3 made its debut to the global smartphone market on 29 May at 6pm.
The 10.1in Android tablet will be offered in three storage options, at 16GB, 32GB and 64GB, however Samsung has not provided any information regarding pricing so far.
One UK online retailer, Expansys, has listed a 16GB (3G + Wi-Fi) edition of the Galaxy Note 10.1 as available for pre-order at a retail price of £480 and the 16GB Wi-Fi only version at £400.
Mobicity UK is offering the 16GB (3G + Wi-Fi) model for £650 including VAT but its stock is not for the UK according to ZDNet who claims to have received the piece of information from a sales agent.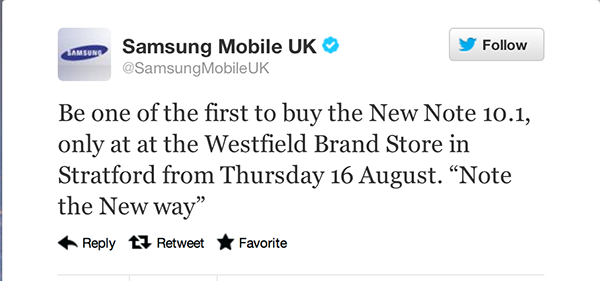 As its name suggests, the device features a 10.1in WXGA LCD display with a resolution of 800 x 1280 pixels and a pixel density of 149 pixels per inch (ppi). This tablet is a larger version of the original Galaxy Note, which straddled the line between smartphone and tablet with a 5.3in screen.
The Galaxy Note 10.1 will use the Android 4.0 (Ice Cream Sandwich) operating system and is powered by Samsung's own Exynos 4 quad-core processor clocked at 1.4GHz, and comes with 2GB of RAM.
It features a five megapixel rear-camera and a VGA quality front-camera. The Galaxy Note 10.1 uses a Li-ion 7000mAh battery and as a unique feature, comes with a stylus - like the Galaxy Note.
Samsung has confirmed that consumers will be able to get the Wi-Fi + LTE version of Note 10.1 later this year, though of course this won't be of much use to UK users as we have yet to get a working 4G network.