Samsung Galaxy S3: Battery Tests Crown Next Galaxy Ultimate Winner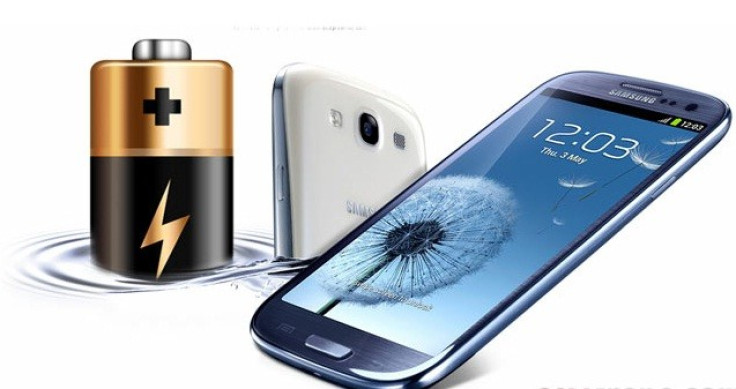 The forthcoming Galaxy S3 smartphone from Samsung is to be powered by a standard Li-ion battery with a capacity of 2100mAh. Statistically, the unit should offer twice the life of the Li-Po 1800mAh unit in the HTC One X and, according to a test by Stuff, it does just that.
The test involved setting both smartphone screens to 50 percent brightness, with the Wi-Fi service on and in continuous video loop. Two hours later the One X had drained more than 50 percent of its battery whereas the S3 still has 76 percent charge. All in all, the One X survived for four hours and 51 minutes while the S3 lasted a hugely impressive eight hours and 26 minutes.
There could be a number of explanations for so large a performance gap and that of the S3 in particular - for example, the Exynos quad-core processor (believed to be more powerful than the One X's Nvidia Tegra 3 chipset) could be a factor, as could the Super AMOLED display of Samsung's phone, which can turn off black pixels and thereby save power.
Meanwhile, Techradar conducted another battery test between the S3 and the One X. This time, though, Apple's iPhone 4S was also included. The phones ran 90 minute videos at full brightness with Wi-Fi services on. The Galaxy S3 was left with a stunning 84 percent battery charge and the iPhone 4S an equally impressive 74 percent, while the One X had only 60 percent. The test also revealed the S3's battery could last for eight hours, under that heavy load, which included an hour of photography, a half hour of playing Riptide GP, playing music and browsing the Internet.
A test by CNET UK stated the Galaxy S3's battery charge dropped from full to about 60 percent, after three-and-a-half hours of streaming HD video over Wi-Fi, with the screen set to 50 percent brightness. In the Antutu battery benchmark test, the Galaxy S3 scored 597 points performing better than its predecessor, the Galaxy S2 and other rival smartphones such as the HTC Incredible S and the LG Optimus 2X.
Finally, a test conducted by GSMArena revealed equally impressive results. In the 3G talk time test, the battery survived for 10 hours and 20 minutes; for five hours and 17 minutes in the browsing test; and 10 hours int he video playback test.
© Copyright IBTimes 2023. All rights reserved.