S Voice, Samsung's answer to Apple's Siri - a voice-activated personal digital assistant - was to be released as an exclusive for the company's new flagship smartphone, the Galaxy S3. However, it has now been unofficially leaked as an option to all those who have Android 4.0 (Ice Cream Sandwich) on their smartphones.
However, in reply, Samsung has now begun blocking unofficial requests generated by the S Voice service from unsupported devices, according to TNW.
Over the last 24 hours, the South Korean tech titan has also taken to displaying a message which reads: "Network Error. Please Try again."
An Android device owner tweeted about the block: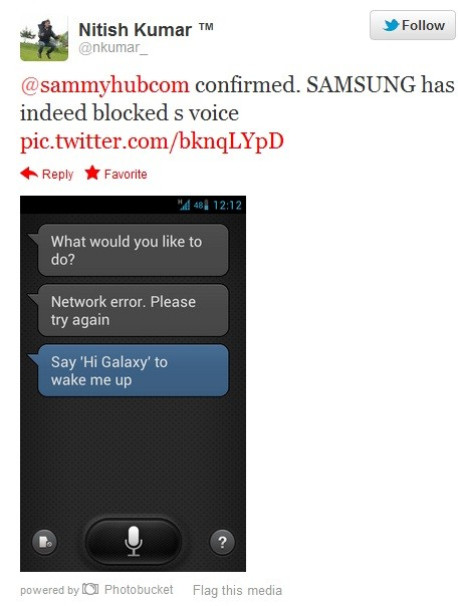 Members of the XDA Developer community have confirmed the requests sent to access S Voice are not being processed by Vlingo servers. Some members from the developer community are said to have leaked the Samsung builds.
"At the moment we start using S Voice we are sending all the following info to them:
X-vlclient: DeviceMake=samsung; DeviceOSName=Android; DeviceModel=Galaxy Nexus; DeviceOS=4.0.4; Language=en-US; ConnectionType=DirectTCP; Carrier=[my Carrier]; CarrierCountry=[my Country]; DeviceID=[my IMEI]; AudioDevice=Android
Looks easy to them to deny the requests from the phones other than Galaxy SIII. And they are doing this obviously, look at the response:
63.116.58.58 10.8.0.1 HTTP 340 HTTP/1.0 404 Not Found
Expert Info (Chat/Sequence): HTTP/1.0 404 Not Found," reads a post by XDA developers.
Vlingo, a software assistant knowledge navigator that functions as a personal assistant application, is capable of blocking any device that should not have access to S Voice by sending data that identifies the device generating the requests for S Voice.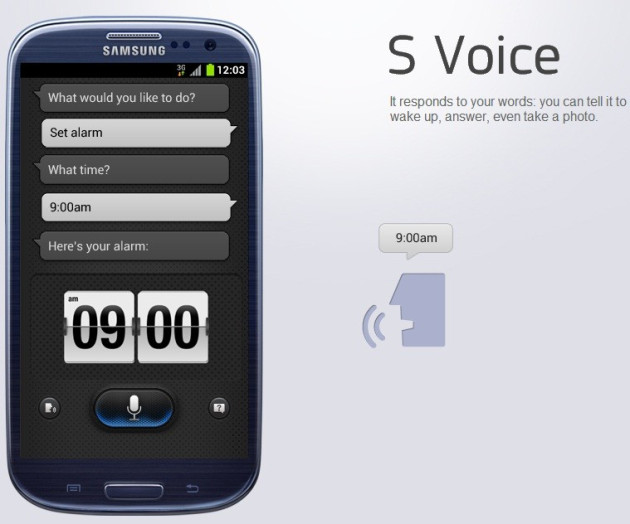 Meanwhile Samsung has confirmed it is blocking S Voice, claiming the leaked app is an initial test version which may not be used in the final product, according to The Verge.
"An initial test version of S Voice which was found online has been blocked as Samsung Electronics does not want consumers to judge the quality of the voice feature based on a test version. When the product is launched, the users of the Galaxy S3 will be able to fully experience S Voice," Samsung has been quoted as saying.
According to reports that hit the web last week, a leaked Galaxy S3 ROM, of 800MB, has been spotted and somewhere in that download are the features exclusive to the Galaxy S3 which include S-Voice, Pop-up play and Smart stay amongst other. The ROM takes 40 minutes to download, reports Android Police.