Samsung recently announced the Galaxy S3 will be available in the US later this month. The smartphone will roll out on all five major carriers - AT&T, Verizon, Sprint, T-Mobile and US Cellular. Soon after that announcement, Android Police claimed to have leaked photographs of Verizon's S3.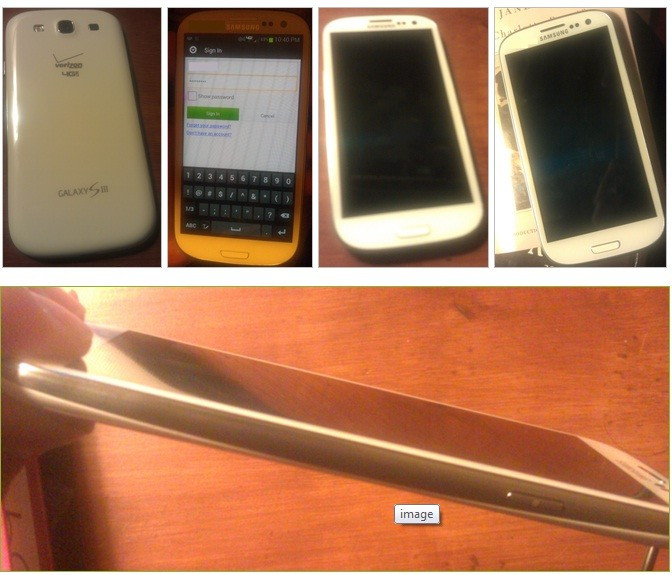 If this information is correct, Verizon's S3 will have a hardware home button. The Verizon logo, along with the lettering "4G LTE" will be written on the battery cover.
Regardless of external appearances, all five variants of the S3 will be powered by a Qualcomm Snapdragon S4 1.5GHz dual-core CPU and, like the Canadian and Japanese variants, the US-bound S3 will pack 2GB of RAM, to provide high-speed performance and multitasking. The phone will be available in the same two colours it is anywhere else - pebble blue and marble white - and come in two storage models - 16/32GB. It will be powered by a Li-ion 2100mAh battery and run the Android 4.0 (Ice Cream Sandwich) operating system with a 4.8in HD Super AMOLED touchscreen display. The Galaxy S3 will go on sale with starting price $199 (£129.57). The Galaxy S3 with all the carriers in the US will connect the 4G LTE and HSPA+42 network speeds. The retail price for the Galaxy S3 will be announced by the carriers in the coming weeks.
According to an IBTimes report, a device by model number SCH-I535 which is said to be the model number of the Verizon version of the Galaxy S3 appeared in the Nenamark benchmark tests. The test reveals the Galaxy S3 will have a display with resolution 720 x 1280 pixels and a dual-core processor and and a Qualcomm Adreno 225 GPU. In the test, the device scored 60.30.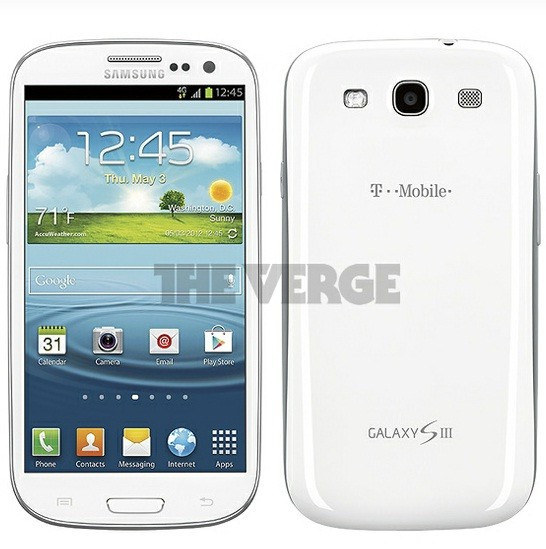 Last week, according to an IBTimes report, the images reported as leaks of the T-Mobile variant of Galaxy S3 have been obtained and published by The Verge. The T-Mobile version appeared to be identical to the global version. The leaked images suggest the Galaxy S3 will be available in the same colours as the global version marble white and pebble blue. The smartphone is also shown featuring a home button and the T-Mobile logo on the back side cover.