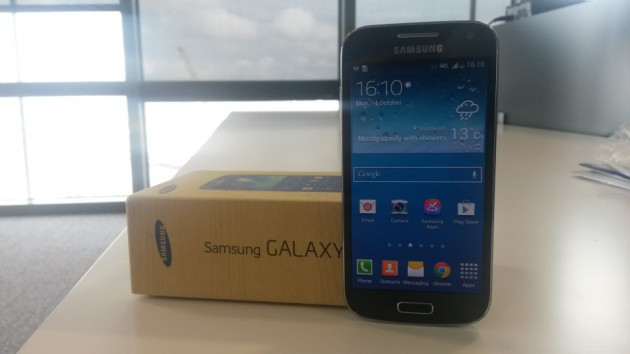 Key Features:
4.3in display (540 x 960 resolution)
Dual-core processor with 1.5GB RAM
8GB internal storage (plus microSD card slot)
Price as reviewed: From £280 SIM-free
Samsung Galaxy S4 Mini
Joining the Galaxy S4, S4 Zoom and S4 Active, this S4 Mini builds on last year's S3 Mini and completes Samsung's Galaxy S4 lineup.
It's a funny old world where a phone with a 4.3in screen can be described as 'Mini', given the original 3.5in iPhone was considered huge when it launched, but times change and the intervening six years represent centuries in the break-neck speed of smartphone development.
Samsung is king of offering smartphones with every conceivable screen size, but in shrinking the S4, has the company skimped on performance - or is the Mini still worthy of carrying the S4 name? Let's find out.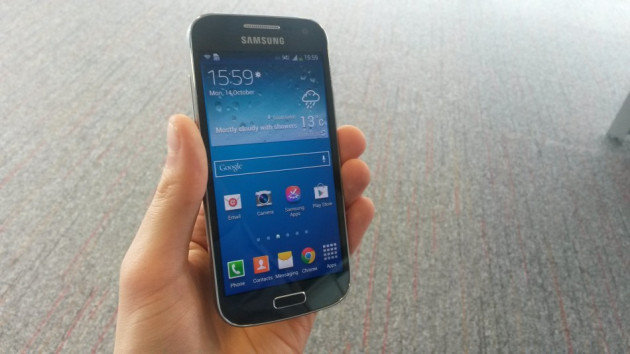 Galaxy S4 Mini: Look and Feel
The S4 Mini is really light. At 107g it's about the same weight as the iPhone 5, which is impressive given the Apple phone's smaller screen.
Of course, much of this weight saving is due to Samsung's continued use of plastic instead of metal, and while the screen gets glass protection, the back cover is as thin and flexible as ever, and the sides get the same fake metal finish as the regular S4.
The front and sides of my 'Black Mist' review unit look good - I prefer the flat sides here to the curved and tapered look of the S3 and S3 Mini - but the back is horrible. Initially reminiscent of woven carbon fibre, the pattern is actually a tight mesh of intersecting diagonal lines which, added to the high-gloss finish, makes the rear panel uncomfortable to look at.
I won't dwell on it though, as it's the front of the phone where your attention will be, and to that end it's business as usual: front-facing camera and chrome speaker at the top, very narrow screen bezel to the sides, and a lozenge-shaped physical Home button below, flanked by light-up, capacitive touch buttons for Back and Menu.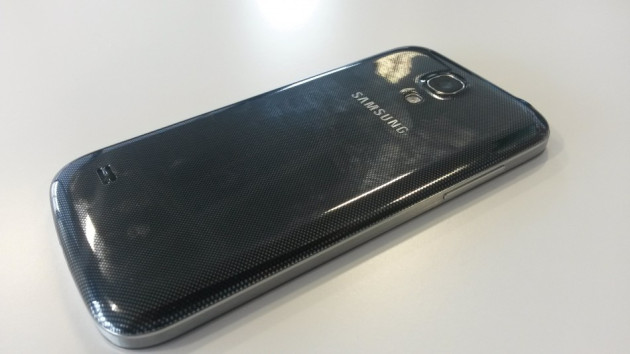 The S4 Mini's ergonomics are top notch. The flat sides giving way to a slightly curved back ensure the phone sits very comfortably in one hand, and even user with small hands will have no trouble reaching to every corner with a single thumb.
I've criticised Samsung's recent designs - and that rear cover is still weird - but I'm pleased to say that, especially in the darker colour here, the S4 Mini is a good looking, well made and practical smartphone.
Galaxy S4 Mini: Screen
Shedding 0.7in from the full-size Galaxy S4, the Mini's screen measures 4.3 inches from corner to corner and has a resolution of 540 x 960. Unfortunately this isn't as high as the resolution of its closest rival, the HTC One mini (720 x 1280), but the Samsung's is still a good effort and individual pixels cannot be seen, making for smooth text and sharp icons.
Being a Super Amoled panel, the S4 Mini's screen shares that familiar Samsung trait of overly saturated colours making some images seem fake and almost cartoonish, as if the phone is trying too hard to make bright colours jump out at you - this may impress in the salesman's hand, but soon starts to look artificial.
Samsung is said to have fixed most of the issues with its latest Super Amoled but unfortunately they remain in the S4 Mini.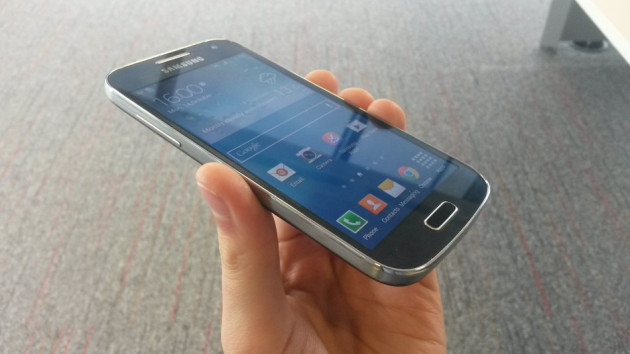 The S4 Mini isn't the best phone for watching films on, but in light of the ridiculously oversized phones we've seen this year - the 6.4in Sony Xperia Ultra Z, for example - I'm happy to see Samsung understands some users want to use their phone as a phone and not a television.
Viewing angles are excellent, the backlight is one of the brightest I've seen and doesn't leak around the edges of the display, and the Amoled technology means blacks are very dark indeed. All this adds up to produce a brilliant screen; the resolution may not be HD, but on a phone this size I'm happy to compromise.
Galaxy S4 Mini: Software and Performance
The Galaxy S4 Mini has the same Android 4.2.2 operating system as the full-size S4, complete with the same version of Samsung's TouchWiz user interface. This means a whole raft of changes compared to the standard version of Android used by Google's Nexus devices; there are visual changes to the lock and home screens and notification drawer, and Samsung includes a number of its own applications.
Samsung's inclusion of two web browsers, two music players and its own app store alongside Google Play will no doubt confuse the less tech-savvy consumers I suspect will opt for the Mini over the full-size S4, but the range of apps and features here is less overwhelming than on the larger phone.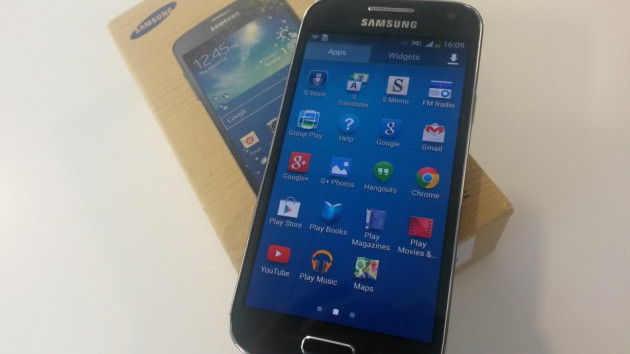 Some apps, like S Translator, could be genuinely useful for some buyers, but they all take up valuable space. My 8GB review unit had 2.6GB taken up by the operating system before I had chance to add any apps, photos or videos of my own. Of course, a microSD card can be installed (up to 64GB) but out-of-the-box storage is too small.
Performance from the dual-core 1.7GHz processor with 1.5GB of RAM is perfectly acceptable. Not once did the phone crash, restart or feel slow in any way, and the it didn't heat up when playing intensive 3D games. This S4 Mini might not have the performance of the full-size S4 on paper, but compared side-by-side to a Galaxy S4 Active, the Mini felt every bit as fast and responsive.
Some of the S4's gimmicks/features have been removed, such as Gesture Control and S Health. Eye tracking is still present though, so videos will pause if you look away.
At 1,900mAh, the Mini's battery is 26% smaller than the regular S4's, but the smaller screen and less powerful processor mean the phone will get you through a full day of average-to-heavy use. However I'm yet to find a smartphone that can reliably get me through two full days, so nightly charging of the S4 Mini is fine by me.
Galaxy S4 Mini: Camera
The S4 Mini has an 8-megapixel rear camera with LED flash, autofocus and full HD video recording. It's some way from the regular S4's 13-megapixel sensor, and the Mini also misses out on most of the S4 and S4 Active's trick camera software - there's no option for shooting 'Drama' shots, or removing passing objects from photos after you've taken them.
Photos taken with the S4 Mini are good, but I wasn't expecting much more, given Samsung won't let the Mini's performance impede on the regular S4 or S4 Zoom.
Galaxy S4 Mini: Verdict
There's a running joke in motoring that drivers only buy the Porsche Boxster because they can't afford the faster, more desirable 911, when in reality the two cars offer similar looks, build quality and performance.
It's a similar story here with the Galaxy S4 and S4 Mini. On the face of it, the S4 with its faster processor, extra RAM, bigger storage and larger screen is the clear winner - the one everyone wants, while the S4 Mini is there to cheer up the less well-heeled.
But in reality, the S4 Mini offers near-identical performance in a smaller, lighter package. True, watching films and TV won't be quite as good, and websites require a bit more scrolling, but for almost all other situations the S4 Mini is as good as any smartphone needs to be.
"As good as it needs to be" probably won't appear on Samsung adverts next to a star rating, but what I'm trying to say is you shouldn't discredit the S4 Mini because it's name and size mean it must be worse than the regular S4, because if what you want is a smaller phone, then aside from the camera and storage (the latter being easily fixed with a micro-SD card) there are no drawbacks.
If Samsung's house style of glossy plastics and TouchWiz doesn't put you off, the S4 Mini could be all the phone you need - and it fits in your pocket.
Scores:
Design: 8/10 - Thin and light, the S4 Mini is well proportioned and easy to use in one hand.
Build Quality: 8/10 - Samsung loves glossy plastic, but at least it feels well made and durable.
Screen: 9/10 - Excellent for its size. Not full HD, but still very sharp and bright. Amoled tech makes colours slightly over-saturated.
Software: 7/10 - Too much garnish distracting from the otherwise excellent Android operating system.
Camera: 7/10 - Toned down to match the Mini's price and intentions. Not bad, but I know Samsung can - and does - do better.
Overall: 8/10 - Attractive, well made and offers most of the S4's performance, most of the time.
The Good:
Very good screen, doesn't need full HD
High performance, don't judge a phone by its spec sheet
Slim and light, can be used one-handed
The Bad:
Too expensive initially, but prices now falling
Poor amount of storage, 8GB is not enough