Apple, HTC, Nokia and BlackBerry have all shown their hands, invitations to a major Samsung event have hit journalists' inboxes and the rumour mills are gearing up for a busy two weeks; the Samsung Galaxy S4 is almost here.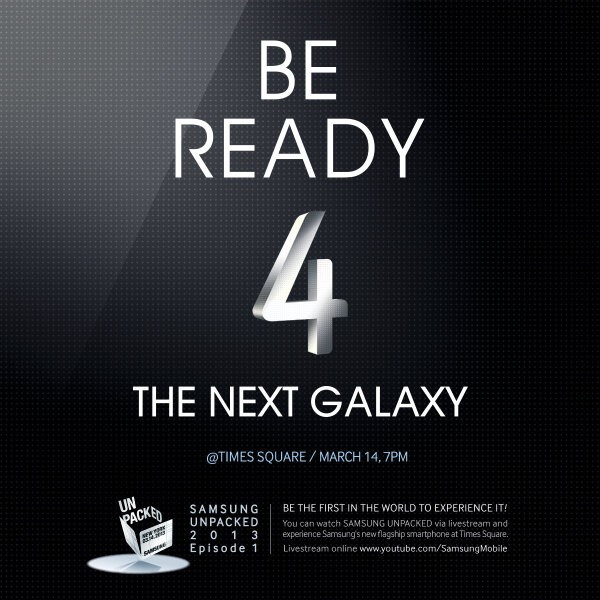 Less than ten months after going on sale in the UK the Samsung Galaxy S3 is soon to be replaced, with the South Korean manufacturer hosting an Unpacked media event in New York on 14 March, where it will announce the Galaxy S4.
An image tweeted by the South Korean company this week invited fans to flock to New York's Times Square, where the Galaxy S4 press conference will be streamed live, and samples of the smartphone will be available to try out afterwards.
Samsung is yet to reveal any details about the upcoming smartphone, but that hasn't stopped the various rumour mills from guessing the phone's design, processor, software and screen size.
Samsung Galaxy S4 - Design and Screen
At CES in January a Samsung roadmap was photographed promising the launch of a 5in device with 440ppi pixel density in the first quarter of 2013.
As for actual design, the only high quality image we've seen claiming to be of the Galaxy S4 shows an elongated S3 with an incredibly thin bezel and no Home button.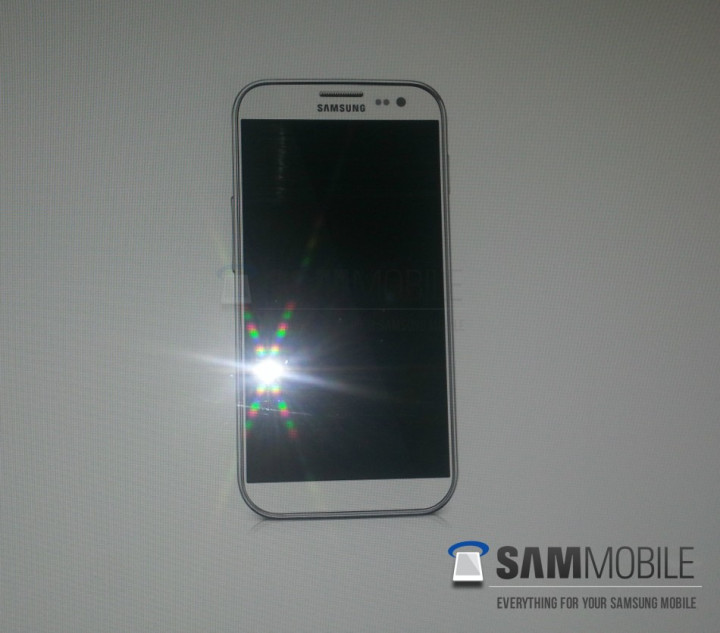 Recent rumours tally with the spotted roadmap, suggesting a 4.99in HD Super AMOLED screen, although there has been speculation that Samsung is unable to produce this is the quantity needed, so an equally-sized LCD screen may appear instead, as used by the HTC One.
The screen is expected to have full 1080p HD resolution and 441 pixels per inch, slightly less than the HTC One (469ppi), but much more than the 326ppi Retina display of the iPhone 5.
While we're not at all surprised to see a larger screen, the lack of a Home button seems unlikely.
Similar rumours surrounding the Galaxy S3 last year proved to be false, and although in theory a capacitive touch button could be used instead, we can't see Samsung scrapping a physical button - and a more recent whisper from the supply chain agrees with us, stating the inclusion of a Home button; that same source adds that the S4 will not get a stylus like the Note 2 does.
The Galaxy S3 has set the design precedent for Samsung over the last year, with updates to the Galaxy Note smartphone, Galaxy S3 Mini and Note 10.1 tablet all taking inspiration from it. For the S4 Samsung may decide to once again set a new design milestone, but if the above leaked image is accurate we've to expect no major design changes.
Information from case manufacturers, which often take a bet on supply chain rumours to produce accessories in time for the launch of major devices, states dimensions of 140.1 x 71.8 x 7.7mm for the Galaxy S4, making it slightly taller, wider, and 1.1mm thinner that the S3. The same source claims a weight of 138g, up on the 133g S3 and that it will be available in black and white.
Samsung Galaxy S4: Processor
The Galaxy S3 had a hugely impressive 1.4GHz quad-core processor with 2GB of RAM, and for the Galaxy S4 we are expecting to see a 1.8GHz Exynos 5 eight-core chip, probably also with 2GB of RAM.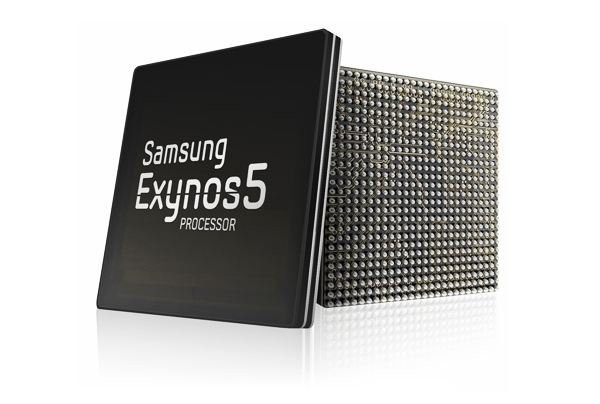 Huawei's claims of its Ascend P2 being the world's fastest smartphone may be short-lived, as it's 1.5GHz quad-core processor with a 1GB of RAM is, on paper at least, out-powered by what we're expecting from the Galaxy S4.
For general use you'd be hard pressed to spot the difference between quad- and octo-core processors, but giving the S4 a more powerful chip will open the door for developers to create even richer and graphically intense games and applications.
Samsung Galaxy S4: Camera
So far all speculation is pointing towards a 13-megapixel camera on the back, although what will be more interesting is if Samsung adopts any of the new photography technologies launched recently by HTC and Nokia.
Realising that smartphone cameras are terrible in low-light, Nokia introduced optical image stabilisation with the Lumia 920, vastly improving low-light performance, and this was followed by HTC and its 'UltraPixel' camera in the One smartphone, again boosting night time performance.
Whatever the megapixel count and low-light trickery employed by Samsung, the rear shooter will almost certainly record 1080p HD video, and we'd expect the front-facing camera to be at least 2-megapixel with HD video recording at 720p.
A new feature of Android 4.2 called Photosphere lets users take 360-degree photos, and recent rumours say the Galaxy S4 will offer similar technology called Samsung Orb, which will help you construct photos similar to those used in Google Street View.
Samsung Galaxy S4: Software
We expect the Galaxy S4 to run Android 4.2 with Samsung's own TouchWiz 6.0 user interface over the top. Used by all of Samsung's Android devices, including its smartphones, tablets and the Galaxy Camera, TouchWiz makes major aesthetic changes to Android and brings Samsung's 'designed for humans, inspired by nature' theme introduced last year with the S3 to the forefront of every device.
Announced at Mobile World Congress in Barcelona, Samsung Wallet is an application very similar to Apple's Passbook and will be available for developers to work with from 7 March.
Acting as a digital wallet to store coupons, tickets, boarding passes and loyalty cards, Samsung Wallet uses on-screen barcodes inside of NFC technology; launch partners include Expedia, Hotels.com and the airline Lufthansa.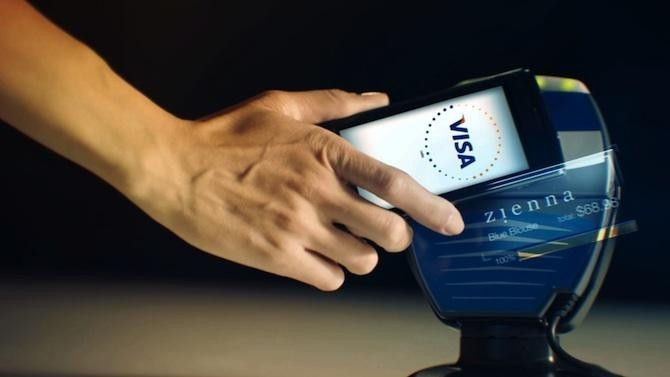 Not forgetting NFC, Samsung also used the Barcelona trade show to announce a partnership with Visa that will bring its payWave application to future Samsung devices.
Trialed by athletes during the 2012 London Olympics, Samsung's incorporation of payWave lets users pay for goods with their Visa card by tapping the phone on a terminal, much like other payment apps from Barclays and Google.
Samsung Galaxy S4: Price and Release Date
Last year Samsung announced the Galaxy S3 in London on 3 May and released it on 30 May, so if the company sticks to a similar schedule we can expect to see the S4 go on sale around the first week of April. This gap gives Samsung a few weeks to drum up consumer interest, let reviewers publish their thoughts, and announce the inevitable record-breaking pre-order figures.
Finally, Samsung will probably start selling the Galaxy S4 a day early through its own retail stores, such as the one at the Westfield Stratford shopping centre in East London, as it did with the S3 and Note 2.
Samsung's Unpacked media event will take place in New York on 14 March at 7pm EST / midnight GMT.