The Samsung Galaxy S4 was finally announced at an eccentric press conference in New York this week, and while we already knew about the hardware thanks to numerous leaks, Samsung revealed many new software features never before seen on a smartphone.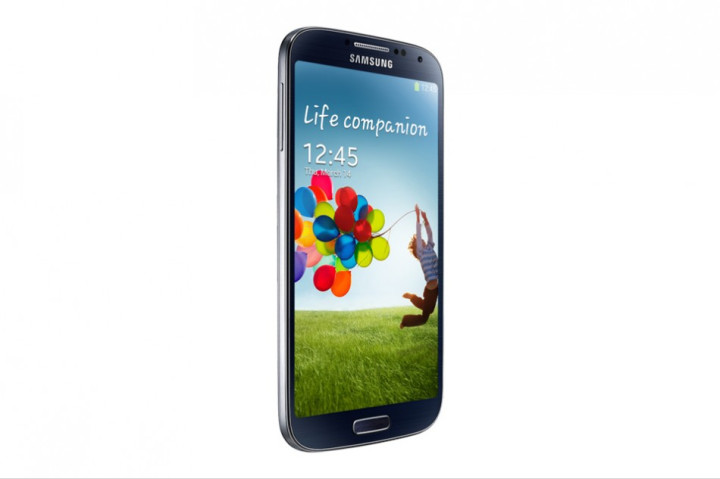 Hardware for the Galaxy S4 was only mentioned briefly, with much of the hour-long presentation focused on software updates that aim to make the phone live up to its tagline of 'life companion'.
For us, some of these features sound like gimmicks that will be turned off and forgotten about the moment the phone is bought, but there are some of genuine interest.
Dual Camera
The Galaxy S4 has a 13-megapixel camera on the back and a 2 megapixel one on the front, both capable of shooting full 1080p HD video. Dual Camera lets you record video or take photos from both cameras at the same time.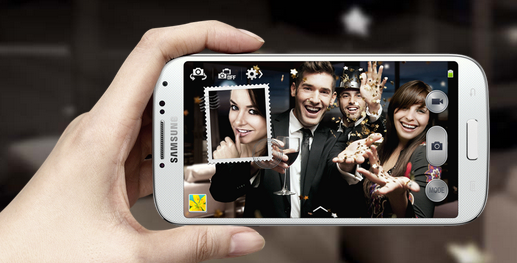 The feature produces an image from the rear camera taking up most of the screen, with a smaller window in one corner showing what the front camera captured. Samsung suggests that you'd use Dual Camera to include yourself in a photo with friends when you were unable to be there in person.
Sound and Shot
Samsung thinks that your photos need something extra - sound. Sound and Shot records a small audio file as you take a photograph to "add another layer of excitement to help you relive and share every moment of each picture much more vividly."
To be honest, we're not convinced that the sound of a champagne cork popping played over a still image of a bottle being opened adds to the excitement, and most smartphones really struggle to record audio in loud situations, so we doubt this feature will get much use.
Group Play
Smartphones have never been known for the quality of their loudspeakers - although HTC and its BoomSound may argue with that - so to help change this Group Play on the Galaxy S4 lets you sync several phones together and play the same track stored on one smartphone through all of their speakers.
More interestingly, Group Play can also be used to share documents and photos between devices and play multiplayer games across a local wireless network created between the phones; it will be interesting to see how developers expand on this feature in up-coming apps and games.
Drama Shot
The Galaxy S4's camera can take 100 photos in just four seconds and the software uses them to create what Samsung calls Drama Shots. Say you want to capture a group of friends jumping into a swimming pool; instead of trying to press the button at exactly the right moment, Drama Shot will take dozens of photos and take the moving objects from each frame, placing them in order in a single shot.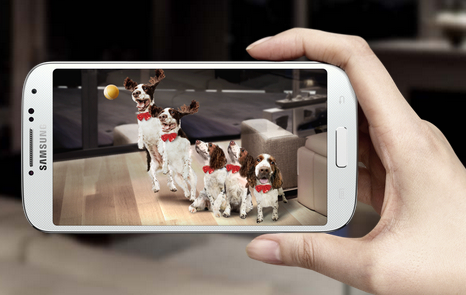 The result is a photo where the background has stayed in one place, but your friends are shown several times in different positions as their jump into the pool.
Smart Scroll
Two of the few software features to leak before the official announcement, Smart Pause and Smart Scroll let you control the Galaxy S4 with the movement of your eyes.
When reading through a news story or email the phone's front camera is monitoring your eye movements. Reach the bottom of a paragraph and the phone will automatically scroll down, or look away while a video is playing and it will pause until you turn back.
The Galaxy S3 had a similar feature whereby the screen would turn off if you stopped looking at it, but in testing we found the sensitivity and reliability to be way off. Hopefully Samsung has addressed this with the S4.
Glove Touch
Like the Nokia Lumia 920, 820 and 620, the Galaxy S4's screen can recognise inputs through gloves. Previously, smartphone screens have been unable to detect touches made while wearing gloves, but that's no longer a problem.
S Translator
One of the most powerful and impressive new tools shown off by Samsung is S Translator. Speak or type a phrase into the phone and it will provide a spoken or written translation in any one of nine different languages.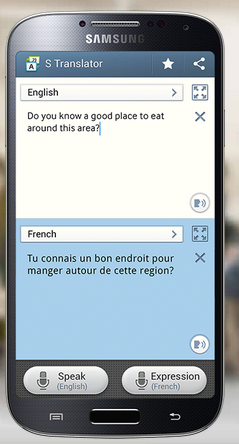 S Translator understands Chinese, French, German, Italian, Japanese, Korean, Portuguese, Spanish and English (US and British). Recognising that S Translator will be used most while abroad, where data usage is at a premium, Samsung has stored 3,000 useful phrases in each language in the phone, so you should be able to find your way without the phone requesting translations from the web.
Additionally, the Galaxy S4's camera can provide an on-screen translation of anything you point it at, so you can easily translate a foreign map or restaurant menu.
S Voice Drive
Following in the footsteps of Siri Eyes Free on the iPhone, S Voice Drive is a hands-free solution to make calls and check email safely while driving. When running, S Voice Drive changes the Galaxy S4's user interface to offer only small amounts of text in a large font, easy to read at a glance.
The phone can be controlled entirely with voice commands, so you can makes and receive calls, send and hear text messages and ask for driving directions without touching the phone or looking at it.
HomeSync
Building on the HomeSync media storage device announced by Samsung in January, the Galaxy S4's HomeSync application lets you control the 1TB media player from your phone and stream content from phone to your TV via the set-top box.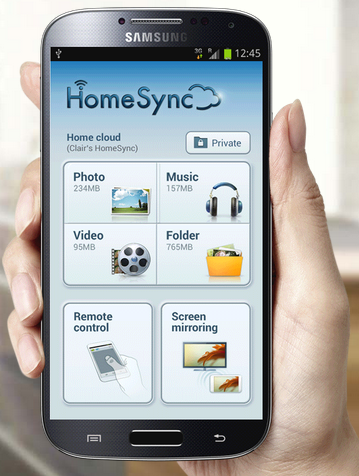 There's nothing groundbreaking here from Samsung, but for consumers looking to buy into the company's entire ecosystem with a TV, media storage device and smartphone, HomeSync provides an easy way to play films and other content wherever they want. All eyes will now be on Apple to either make its Apple TV set-top box more powerful, or announce the much-rumoured television.
S Health
One of the most interesting and gimmick-free features of the Galaxy S4, S Health tracks your workouts with the phone's internal pedometer and lets you enter details of your diet and exercise routine.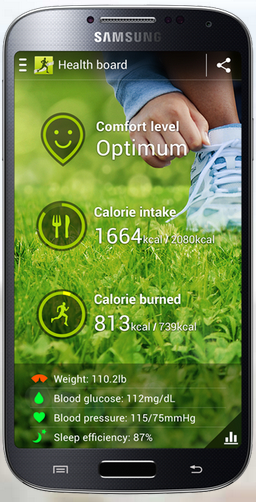 More importantly, the S4 can be synced with a companion S Band to wear on your wrist, similar to the Nike+ Fuelband. The S Band is sold separately (price not yet know) in four different colours (pink, blue, brown and black) and keeps track of your steps, calories burned and distance covered.
The S Band also monitors your sleeping efficiency, is waterproof and syncs with the S Health app to produce a detailed overview of your health and fitness regime.
Samsung also announced the HRM Running Coach, a heart rate monitor which straps across your chest and sends data back to the S4 over Bluetooth.
Air View / Air Gestures
Samsung has brought over its Air View features first seen on the Note 2 last year to the Galaxy S4. This means that the screen can be interacted with by hovering your finger (or the S Pen stylus on the Note) above it.
Hover above the subject line of an email, and the first few lines will appear in a pop-out box; hover over a photo album and thumbnails of the photos inside appear. It may sound like a gimmick at first, but I found with the Note 2 that Air View can be genuinely useful - so long as you remember to use it.
Air Gestures adds to this, letting you control the phone by waving your hand past the screen. Perhaps you want to flick through a recipe but don't want to get food on the screen, you can turn the page with a Kinect-style gesture picked up by the front-facing camera.
There are a lot of gimmicks here that will be turned off by most users, but for us S Translator and S Health stand out as having real potential to be taken seriously.