Samsung Galaxy S4 vs Apple iPhone 5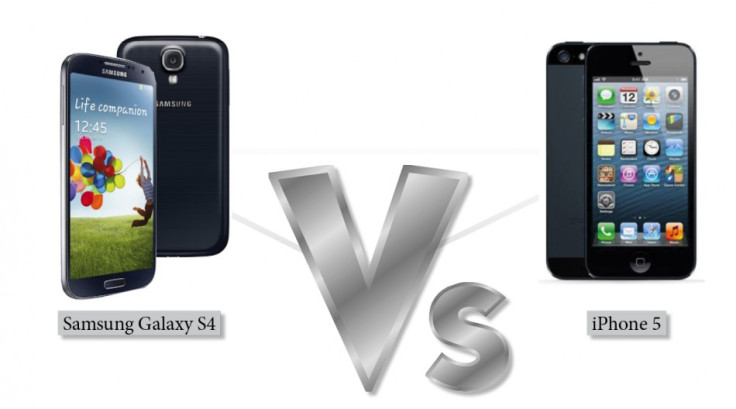 Ten months ago I claimed the Samsung Galaxy S3 to be the best smartphone money can buy, better even than the iPhone 4S and easily more capable than any Android smartphone that went before it.
Then the iPhone 5 came along and, although having a smaller screen and what some believed to be an aging operating system, for me it took the smartphone winner's trophy back to California.
Well here we are again, with the Samsung Galaxy S4. It's a huge phone, there are no two ways about it, a full inch larger than the iPhone 5 and just half an inch smaller than the half-phone-half-tablet Note 2.
Display
That 5in screen has full HD resolution of 1080 x 1920, meaning a pixel density of 441 pixels per inch (ppi), much denser and therefore sharper than the iPhone 5's Retina screen and its 326ppi.
A high resolution and pixel density is of course a good thing, but there is much more to a display than the number of pixels you can cram into it, so we will reserve calling the Galaxy S4's screen better than the iPhone 5 until we have compared them more closely.
Above the 5in screen the Galaxy S4 has a 2.1-megapixel front-facing camera which builds on facial recognition technology first used in the S3 to offer 'Smart screen' features.
With these turned on via the Settings app, the S4 monitors your eye movement so closely that pages can be scrolled up when you reach the bottom of a paragraph, and video is paused when you look away.
When reviewing the Galaxy S3 I turned off Smart Stay - keeping the screen unlocked until you look away - because it seemed pointless and even got in the way, but I read a lot on my phone, so if the screen can scroll automatically I can see me using the feature - and it means you can use the phone one-handed without fear of dropping it by stretching your thumb up to reach the display.
As for overall size and weight, the S4 measures 136.6 x 69.8 x 7.9mm and weighs 130g, that's 0.3mm thicker and 18g heavier than the iPhone - an impressive result giving the S4's screen being an inch larger.
Processor
Powered by an Exynos 5 Octa chip, the Galaxy S4 is technically a quad-core smartphone with eight cores at its disposal. Dubbed big.LITTLE, the phone can make use of a 1.6GHz quad-core processor for heavy work like 3D gaming and HD video, but can also rely on a 1.2GHz quad-core processor for less intensive tasks, like text messaging and Twitter.
This way, the Galaxy S4 can save on battery life while still having huge power when it's needed.
By way of comparison, the iPhone 5 has a dual-core 1.2GHz processor, but comparing these phones on numbers alone isn't fair, because iOS 6 is highly efficient and in our previous reviews performed just as well as the quad-core Galaxy S3 and Note 2.
The real test for the Galaxy S4 will be battery life, and if the eight-core setup can help to give it either a full day of heavy use or two days of average use - both almost impossible to achieve with high-end smartphones.
Operating system
Apple's ageing iOS is starting to look just that, and we are expecting some big changes this summer when Jony Ive gets to show off the changes he will have undoubtedly made since taking over responsibility for the mobile software, following Scott Forstall's firing last year.
Until then, the iPhone 5's iOS 6 software goes up against the Galaxy S4 and its Android 4.2.2 Jelly Bean operating system covered with Samsung's TouchWiz skin.
Android users are often divided by handset manufacturers' use of skins, with many preferring the standard look of Android to anything Samsung, HTC or Sony can drape over the top.
With TouchWiz on the Galaxy S4, Samsung has taken a similar approach to the S3, S3 Mini, and Note 2, so anyone who's used a Samsung in the last year will feel right at home with the Galaxy S4.
Camera
If all you want is the most megapixels, the Galaxy S4 wins this round comfortably, offering up 13 compared to the iPhone 5's eight, but with photography there is often much more to it than that.
Nokia and HTC have proved with their PureView and Ultra Pixel technologies that pixel count is far from everything, and instead feeding extra light into the image sensor is just as important.
A last minute rumour suggested Samsung would install a 3D camera into the S4, but being based on a recent patent filing the technology was unlikely to make it into production so quickly, so we'll hold that rumour for next year.
In the meantime, a 13-megapixel sensor with LED flash and full HD video recording is welcome, given the S3 has the same pixel count as the older Galaxy S2. A neat feature of the S4's camera is that it can shoot 100 photos in just four seconds, then compose a perfect image from these. Say you are taking a group shot and someone walks past in the background, you can simply remove them by combining shots where the person didn't appear.
It's early days yet, and we are yet to get our hands on the Galaxy S4 - expect a full review and more in-depth comparisons in the coming weeks - but for now we can say that the S4 is more evolution than revolution, and has built on the S3's success by adding a wide range of software updates.
© Copyright IBTimes 2023. All rights reserved.