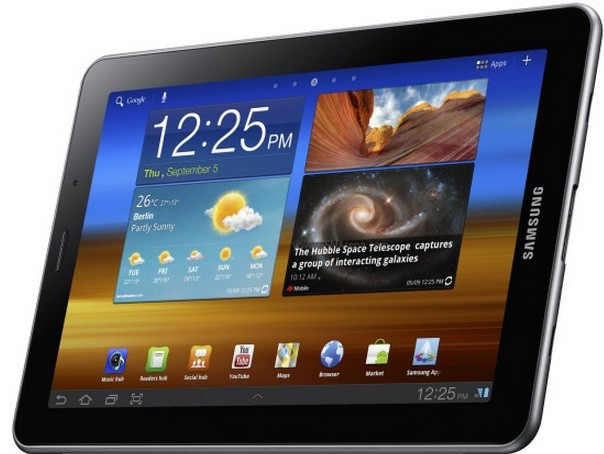 Featuring a high resolution display as well as higher pixel density (800 x1280pixels, 196ppi) compared to some of the rival 7in tablets, Samsung Galaxy Tab 7.7 was announced in September last year. With a thickness of 7.9in, the Galaxy Tab 7.7 is a lightweight tablet. The device is equipped with a 3.15 megapixel rear-facing camera and a two megapixel front camera. Exynos dual-core Cortex-A9 powers the tablet whose clock speed is 1.4GHz. The Galaxy tab 7.7 offers huge storage options at 16GB/32GB/64GB with microSD card. The device is powered by a bigger battery of 5100mAh. The Galaxy Tab 7.7 was launched with Android operating system (OS) v3.2 (Honeycomb) but now it can be upgraded to Android 4.0 Ice Cream Sandwich (ICS).
According to a Sammobile report that appeared last month, Samsung plans to update its Galaxy tablet lineups including 7.0in, 7.7in, 8.9in and 10.1in to Android 4.0. The new software update was scheduled to start in July this year and most of the updates are planned for August (this year).
The first Android 4.0.4 firmware for the Galaxy Tab 7.7 model number GT-P6800 has been released on Samsung Kies and the update will not happen over-the-air. Therefore users have to download Samsung Kies PC Software, connect the Galaxy Tab 7.7 to desktops or laptops and have to look for the Android ICS install package.
The new software update is not available for all Galaxy Tab 7.7 models. Users in Austria, France, Germany, Hungary, Italy, Spain and the UK owning the GT-P6900 tablet model will be able to enjoy the new software update presently, reports Android Authority. But the members at XDA Developers say that the new update is working on Galaxy Tab 7.7 devices purchased from other countries in Europe. Those users who are not interested for Samsung Kies update can download the firmware update from the link provided by Sammobile.
Users who cannot wait for the region-wise Android ICS update for their Galaxy Tab 7.7 can manually install the update following these steps. Users should create a backup of their data before following the steps.
a) Download ODIN and the official ICS firmware. Unzip the firmware file after it is downloaded and extract its content on your desktop.
b) Launch ODIN and click on the PDA button. Select the firmware file extracted on your desktop.
c)-Now switch off your Galaxy Tab 7.7 and boot it into Download mode. In order to boot into Download mode, press the Power and Volume down button simultaneously. When the tablet boots into Download mode, connect it to your PC.
d)-Once ODIN detects your Galaxy Tab 7.7, it will display a COM number inside a yellow rectangle box. Click on the start button and wait for ODIN to flash. Once the flashing process is over, the Galaxy Tab 7.7 will automatically reboot itself. The first boot will take some time, so be patient.