Samsung Galaxy S4 Active: Carphone Warehouse, Clove, Amazon and Unlocked Mobiles Commence Sales [PHOTOS]
Samsung Galaxy S4 Active is now available in the UK through online shopping websites like Carphone Warehouse, Clove, Amazon and Unlocked Mobiles. A few dealers have started selling the handset while others are taking pre-orders.
Carphone Warehouse has been spotted displaying the Samsung Galaxy S4 Active for sale along with mobile network plan updates, monthly rental plans and SIM-free plans.
The SIM-free version is priced at £529.95 with free shipping charges. The device is available on monthly rental option along with Vodafone network connection starting from £33 per month with the handset free of cost.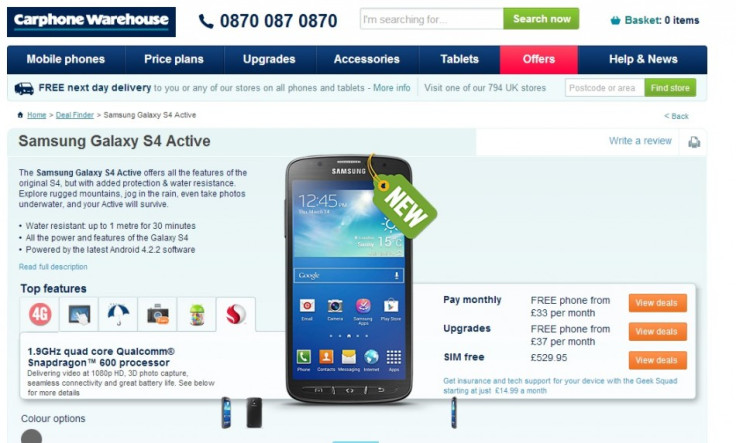 The £33 per month plan comes with 600 free calling minutes to any network, unlimited texts, 500 MB internet data and 2 GB of Wi-Fi internet. The offer is valid for 24 months; in all, 26 tariff plans are available.
The network plan update starts from £37 per month for 24 months, which includes unlimited calling minutes and free texts with 1 GB of mobile data and 2 GB of Wi-Fi internet connection.
Talk Mobile also has two monthly offer plans with the Galaxy S4 Active starting from £30 per month along with the handset priced at £89. The offer provides 750 free minutes of calling to any network, 1,500 free texts and 1 GB of mobile internet data. The offer has 24 months' validity.
All plans can be viewed here.
Like Car Phone Warehouse, Unlocked Mobiles is also reported to be selling the handsets for £495 without any plans.
CNET reports that other online shopping websites have delayed the sales until next week. Amazon is to put the handset for sale from 1 August and is in the meantime, taking pre-orders for £676.
Clove and Expansys have also started the sale of the product. Expansys is only offering the urban grey colour model as of now at a price of £504.99 with free shipping, while other colours - orange flare and dive blue - are available for pre-order.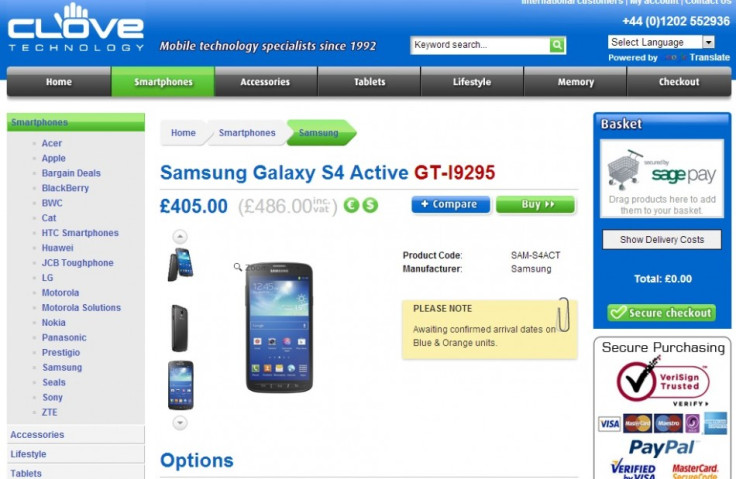 Clove is offering the device at £486 (inclusive of VAT). It has started the sale of urban grey and dive blue and is taking pre-orders for orange blue.
The Samsung Galaxy S4 Active sports a 5in screen with full HD playback ability. The device is powered by 1.9 GHz quad-core Snapdragon 600 processor and runs on Android 4.2.2 Jelly Bean out of the box. S4 Active comes with Samsung's native TouchWiz user interface.
© Copyright IBTimes 2023. All rights reserved.