Following the announcement of Samsung's new flagship smartphone, the Galaxy S4, Android Authority shared the results of Geekbench 2 performance benchmark on the new Galaxy S4 last week on YouTube (click to watch the video). Primate Labs has compared the performance of a few high-end smartphones in an analysis based on the recent Geekbench 2 benchmark test.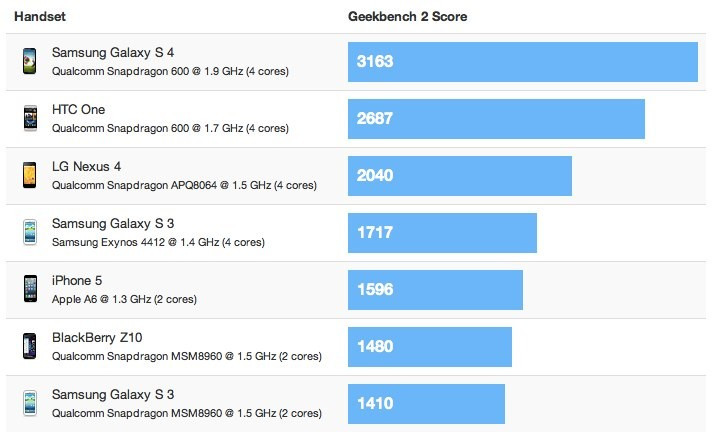 The analysis depicts that Samsung's new flagship phone is considerably faster than the HTC One, LG Nexus 4, Galaxy S3 and the iPhone 5. John Poole at Primate Labs had this to say, based on the Geekbench 2 score analysis:
"The Samsung Galaxy S4 is twice as fast as the Samsung Galaxy S3. Given that the Samsung Galaxy S3 is less than a year old, that's a remarkable achievement. I am amazed at how quickly smartphone technology is improving.
"The Samsung Galaxy S4 is also twice as fast as the Apple iPhone 5. Apple has improved performance dramatically in the past (there was 2.5x increase in performance from the iPhone 4S to the iPhone 5). Will they be able to make a similar improvement for the next iPhone?"
The Galaxy S4 has blown away its competing rivals in the latest benchmarks. Though the benchmark was done on the US variant of S4 running on a 1.9GHz Snapdragon 600 CPU, the powerful quad-core chipset successfully beats its competition with a top score of 3163 points. In other words, the S4's performance score is almost double of the previous generation Exynos chipset based Galaxy S3.
The iPhone 5's geekbench score (1596) is significantly better than the Qualcomm Snapdragon MSM8960 dual-core 1.5GHz chipset based Galaxy S3 (at 1410). This is partly because of less resource overheads, as iOS runs on native code without Java installed that could slow-down its performance. However, the quad-core Galaxy S3 based on the new Exynos 4412 chipset running at 1.4GHz performed marginally better than the iPhone 5 in the final Geekbench 2 scores.
Given the need to power up a 1080p display and support a bunch of advanced software features such as Eye Tracking technology, the S4 has truly surpassed a great milestone. HTC One is the only device that comes close to challenging the Galaxy S4 with an overall score of 2687 points, as it boasts the same chipset running at a lower clock speed of 1.7GHz.
Both the Blackberry Z10 and dual-core version of Galaxy S3 finished at the bottom of the table, with less than impressive scores. However, the Nexus 4 finished third behind HTC One with an impressive score of 2040 points with due credit to the newer Qualcomm Snapdragon APQ8064 chipset running a relatively powerful quad-core 1.5GHz processor.
Though the synthetic performance depicts an impressive performance for Galaxy S4, the actual performance will depend on real-world tests that can be done once the device releases in April.