There is some good news for prospective Galaxy S4 buyers in the UK, as Carphone Warehouse begins the pre-order processing on 28 March. Those eager to lay their hands on the world's fastest smartphone yet (click to see the latest benchmarks) are in for a special surprise, as Carphone Warehouse is offering complimentary goodies and freebies for early birds.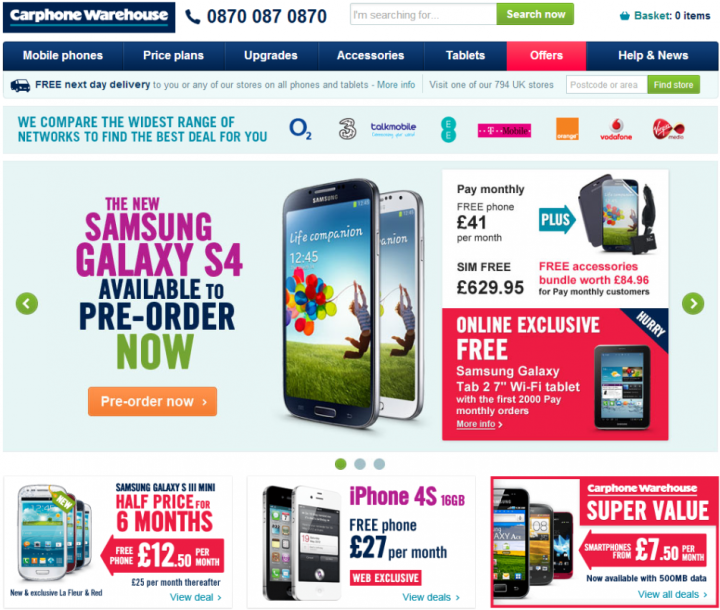 For starters, the first 2,000 customers to pre-order the Galaxy S4 will get a free 7in Galaxy Tab 2 from Samsung, which is reportedly poised to receive the latest Android 4.2.2 Jelly Bean update later this year. In addition, all Galaxy S4 pre-orders will bundle with an accessories pack until the offer lasts.
Those who missed the Galaxy Tab 2 offer can still enjoy the free accessory pack that includes in-car charger, a screen protector and Galaxy S4 case. The accessories pack is worth £84.96.
According to Mobile Today, Graham Stapleton, chief operating officer at Carphone Warehouse had this to say (while talking about the grand release of the handset coming 26 April): "The Samsung Galaxy S4 is big news for anyone who already uses or is interested in getting a smartphone. Everyone is talking about this handset and it smashed all the registration records we've held for Samsung devices."
Though there is no word about pricing plans for the phone from mobile-network carriers, the smartphone retailer revealed plans for extending the store opening hours during the period to cope with customer demand for Galaxy S4.