The Gear VR Manager app, which connects Samsung's upcoming Gear VR with the compatible Galaxy smartphones, has leaked online revealing the functionality of virtual reality headset.
For the uninitiated, Samsung has been rumoured to be working on a virtual reality device called 'Gear VR', which is expected to be announced alongside Samsung's next-gen Galaxy Note at the IFA 2014. While Samsung is believed to be developing the hardware for Gear VR headset, the software is being made by Oculus VR.
Sammobile has now managed to get what it called is an early version of the Gear VR Manager app, which will be installed on the Galaxy devices to work with Gear VR.
Setting up Gear VR Manager on Galaxy devices
After the Gear VR setup wizard is launched (check the above screenshots), on a Galaxy smartphone, a welcome screen will appear. When the user accept an End User License Agreement, the setup wizard will start downloading all apps from Samsung's server, such as VR Panorama, VR Cinema and HMT Manager, which is an early version of Gear VR Manager.
Upon the completion of setup process, the setup wizard prompts to mount the Gear VR and then shows up a final screen allowing users to connect the Galaxy device to the Gear VR via USB 3.0.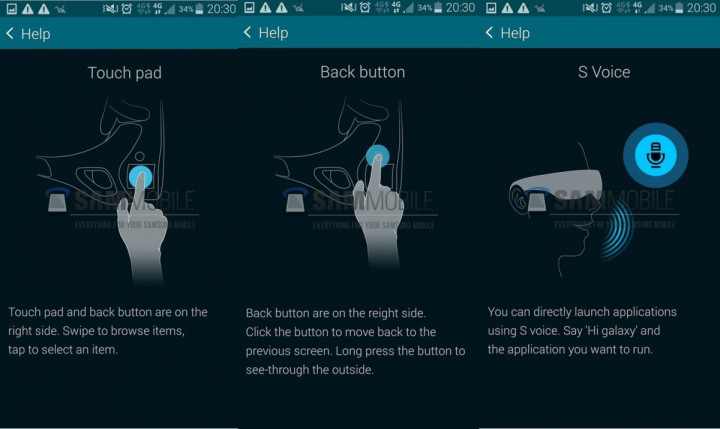 HMT Manager and Features
The HMT Manager has a VR Lock allowing users to set up security lock while wearing the Gear VR headset. The Warning Alert feature alerts the users every hour.
Besides, there is something called Undock Alert. A guide will appear, whenever user disconnects the Galaxy device from the headset, to dock it again. Among other key features are the Screen timeout, as its name suggests, is to set a screen timeout value.
The above screeshots (screenshot-2) also suggests there are a touchpad and a back button on the right side of the Gear VR headset. When the Galaxy device is connected with the Gear VR, the user will not be able to use the device's touchscreen. The touchpad and back button will then enable to navigate through the user interface.
Another interesting feature is the S Voice that allows users to launch the Gear VR Manager app using voice command.