Next year Samsung will release a smartphone featuring a three-sided display wrapped around the phone, building on the industry's growing interest in curved screens.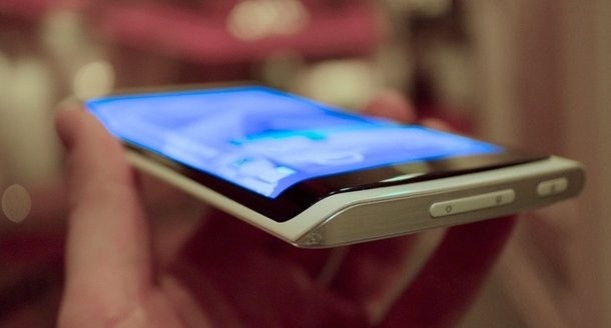 Based on a prototype shown off by Samsung over the past 18 months, the phone's screen will wrap around the edges, where information such as the time, battery life and unread notifications can be shown without powering up the entire display.
Speaking to Bloomberg, two people "familiar with the plans" said the screen technology, called Youm, could be used on the Galaxy S5 and Note 4 smartphones, which are expected to be announced around May and September respectively.
Samsung recently announced the Galaxy Round, which features a 5.7in display that is horizontally curved. Using software called Roll Effect, the phone can be tilted up at an angle when laid on a flat surface, prompting the device to display the time and notifications like missed calls and unread emails, without unlocking the phone in a conventional manner.
Apart from offering a new place for notifications, curved displays are also claimed to be much stronger than conventional screens and are less prone to breaking when dropped.
Curved displays are looking to be the must-have feature for smartphones in 2014, as Apple is also believed to be working on iPhones with rounded screens. A second report by Bloomberg cites a source familiar with Apple's plans who said an iPhone with curved glass is being developed.
However, unlike the concave design of Samsung Galaxy Round, the curved iPhone will reportedly be convex, with the display bending downwards at its edges. The same source claims Apple is developing an iPhone with a screen larger than the relatively small 4in iPhone 5s, and that the California company is experimenting with displays which can detect different levels of pressure.
Thrown into the market
Gartner research director Van Baker told Bloomberg: "We'll see curved displays coming into the market, but it's just a question of whether they will gain any significant traction with customers."
Addressing Samsung's strategy of releasing a wide range of devices to see what consumers like, Baker added: "There are enough companies out there that are very fond of throwing whatever hardware they can out into the market, just to see if anybody will bite."
LG has also jumped on the curved smartphone bandwagon, with the G Flex. Curved vertically across its width - instead of horizontally like the Galaxy Round - the G Flex has a 6in display and a "self-healing" protective skin applied to its back, which claims to remove scratches within minutes of them appearing.