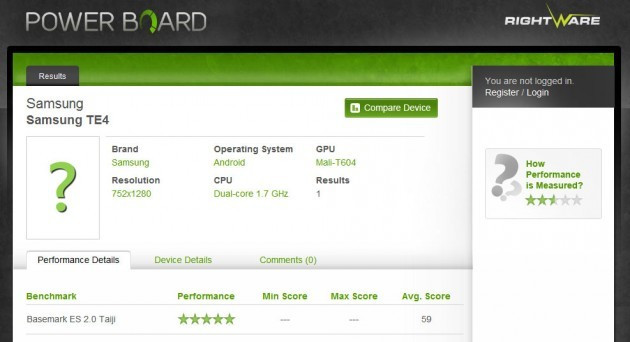 Recently reports surfaced that Samsung is working on its Galaxy S3's successor, the Galaxy S4, which is expected to launch at the Mobile World Congress (MWC) 2013. But it was then denied by the Korean giant on its official Twitter account.
AndroidAndMe now reports that a leaked benchmark result suggests that Samsung is testing a new Android smartphone which seems to be successor to the Galaxy S3. According to reports, the device comes with a codename "Samsung TE4" and has been spotted by Rightware.
The site claims that the unannounced device comes with a few hardware features which have never been seen in an Android phone. According to reports, the device is expected to feature an Exynos 5 dual-core processor with a 1.7GHz dual-core Cortex-A15 CPU and Mali-T604 graphics processing unit.
In terms of display, Samsung TE4 could come with a resolution of 1280 x 752 pixels. "There is no way to tell what this "TE4" really is or when it will be released, but a leaked benchmark normally comes from a test device that might appear soon," claims AndroidAndMe.
It is uncertain whether the prototype is the Galaxy S3's successor until there is an official announcement from the company.
Samsung's Galaxy S3 which has been a high-end smartphone with powerful features has made huge sales this year. Just less than two months since the Galaxy S3 went on sale in May, it crossed sales of 10 million units in July. Earlier in September, the Galaxy S3 surpassed 20 million global sales in just 100 days of its release.
The Economic Times reported that the Korean giant claims that the "brisk sales" of Galaxy S3 have been helping it in retaining its dominance of the smartphone market. On the other hand, according to Strategy Analytics, the Korean giant has outshone tech giant Apple in worldwide shipments in 2011.