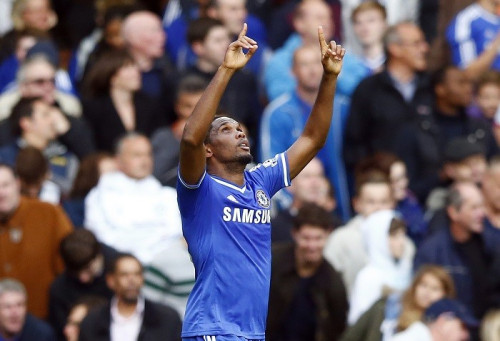 Samuel Eto'o claims that Chelsea do not have to win any trophies this season as they are facing a transitional campaign in order to become a top side next year.
A hat-trick from the Cameroonian striker gave Chelsea a 3-1 victory over Manchester United on Sunday to maintain their pressure on Premier League leaders Arsenal who are now just two points ahead of the Blues in the table.
However, Eto'o is cautious of Chelsea's improvement and when asked of their chances of lifting one of the three big trophies this season he said: "We came from a season where Chelsea were far from the top and we will see how this season goes. I believe that next year we will have the obligation to win but not this one"
"I do not know if we are going to win anything but we do not have to. Manchester United, City and Arsenal are the ones that have to win everything.
And in the Champions League Bayern are the big favourites alongside Barcelona and Real Madrid." Eto'o added in Spanish Radio Station Cadena Cope.
The 32-year-old striker signed a one year contract with Chelsea last summer but after scoring six goals in 12 Premier League games Jose Mourinho may ask him to stay longer at Stamford Bridge.
Asking about a potential contract extension at Chelsea he said: "I have signed until the end of the season. Mourinho was the key factor in my decision but now I am trying to enjoy and then we will see what happen."
Nevertheless, Eto'o did claim that he misses Spain and suggests that he would like to end his career at his former club Mallorca.
"I miss Spain: my friends, the food, the weather... and my son is pressuring me a lot to return to Mallorca because he support them."