New satellite images reveal that China has built new military facilities, including missile shelters, runways and radar and communications facilities, on the disputed Spratly islands in the South China Sea.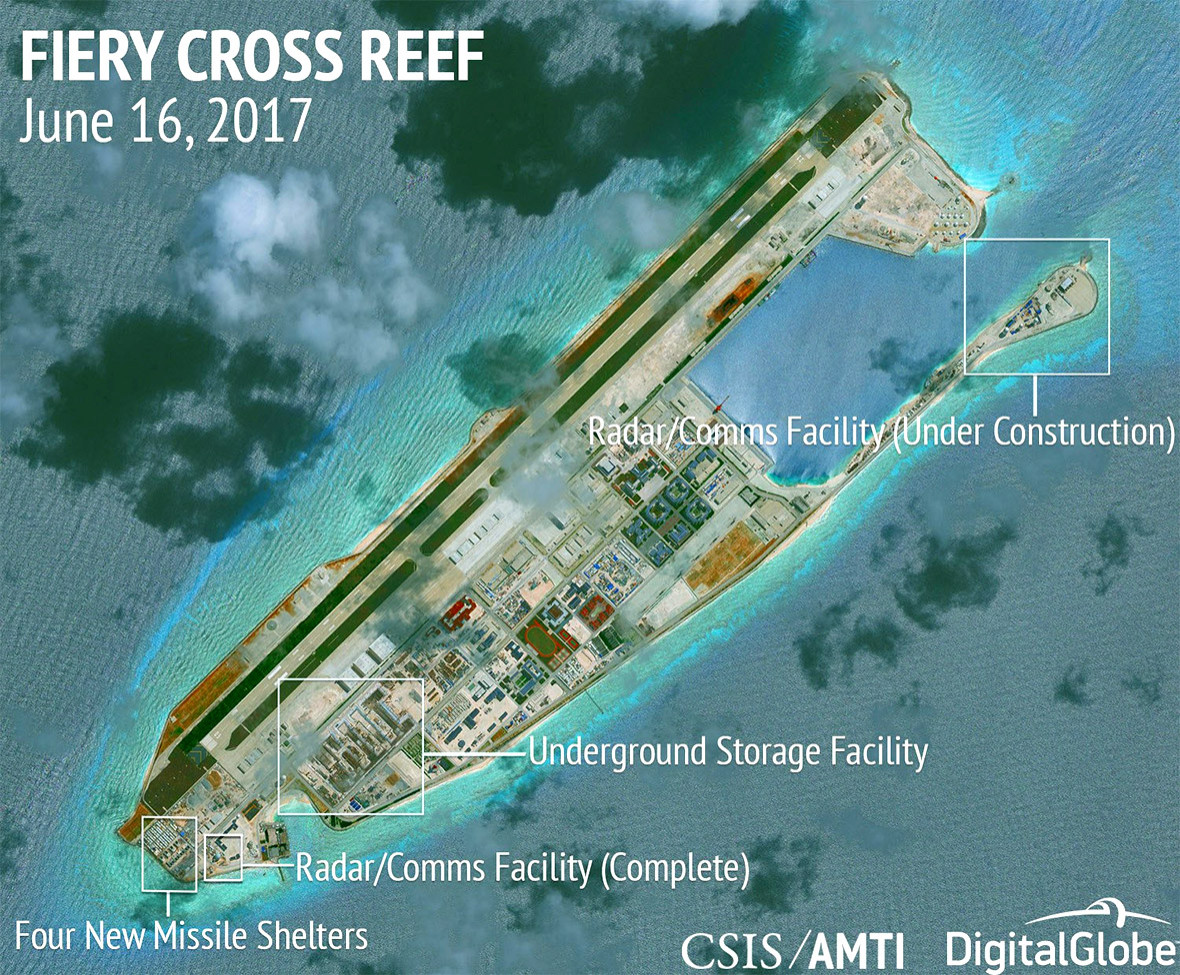 In a report, the Pentagon said that China is building 24 fighter-sized hangars, fixed-weapons positions, barracks, administration buildings, and communication facilities on each of the three largest outposts — Fiery Cross, Subi and Mischief Reefs. Each has runways that are at least 8,800 feet (2,680 metres) long. Once complete, the report said China will be able to house up to three regiments of fighters in the Spratly Islands.
China has built four new missile shelters on Fiery Cross Reef to go with the eight already on the artificial island, the Asia Maritime Transparency Initiative (AMTI), said. Mischief and Subi each have eight shelters, the think tank said in a previous report.
On Mischief Reef, a very large antennae array is being installed that presumably boosts Beijing's ability to monitor the surroundings, the think tank said, adding that the installation should be of concern to the Philippines due to its proximity to an area claimed by Manila.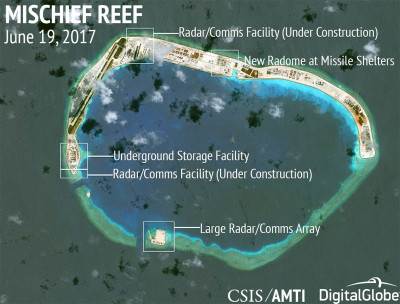 A large dome recently was installed on Fiery Cross and another is under construction, indicating a sizeable communications or radar system, AMTI said. Two more domes are being built at Mischief Reef, it said. A smaller dome has been installed near the missile shelters on Mischief, "indicating that it could be connected to radars for any missile systems that might be housed there," AMTI said.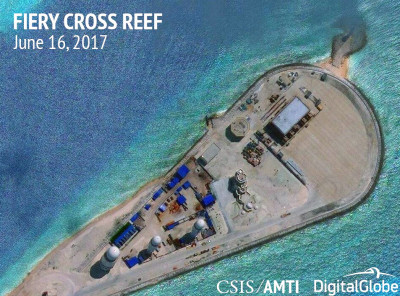 In February, Reuters reported that China had nearly finished building structures to house long-range surface-to-air missiles on the three islands.
China has denied charges that it is militarising the area. The missile deployment follows China's building of new islands by piling sand on top of existing reefs.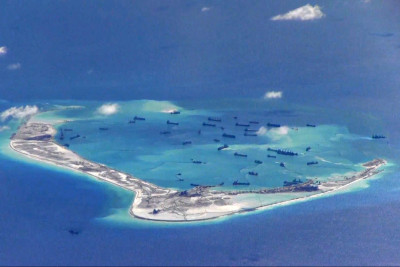 The build-up is seen as part of Beijing's efforts to claim virtually the entire disputed sea and its resources. The area is believed to have huge deposits of oil and gas. However, Vietnam, Malaysia, Brunei, the Philippines and Taiwan have rival claims. South China Sea has become Asia's biggest potential military flashpoint as Beijing's sovereignty claim over the huge area has set it against Vietnam and the Philippines as the three countries race to tap possibly huge oil reserves. China took full control of the islands in 1974 after a naval showdown with Vietnam.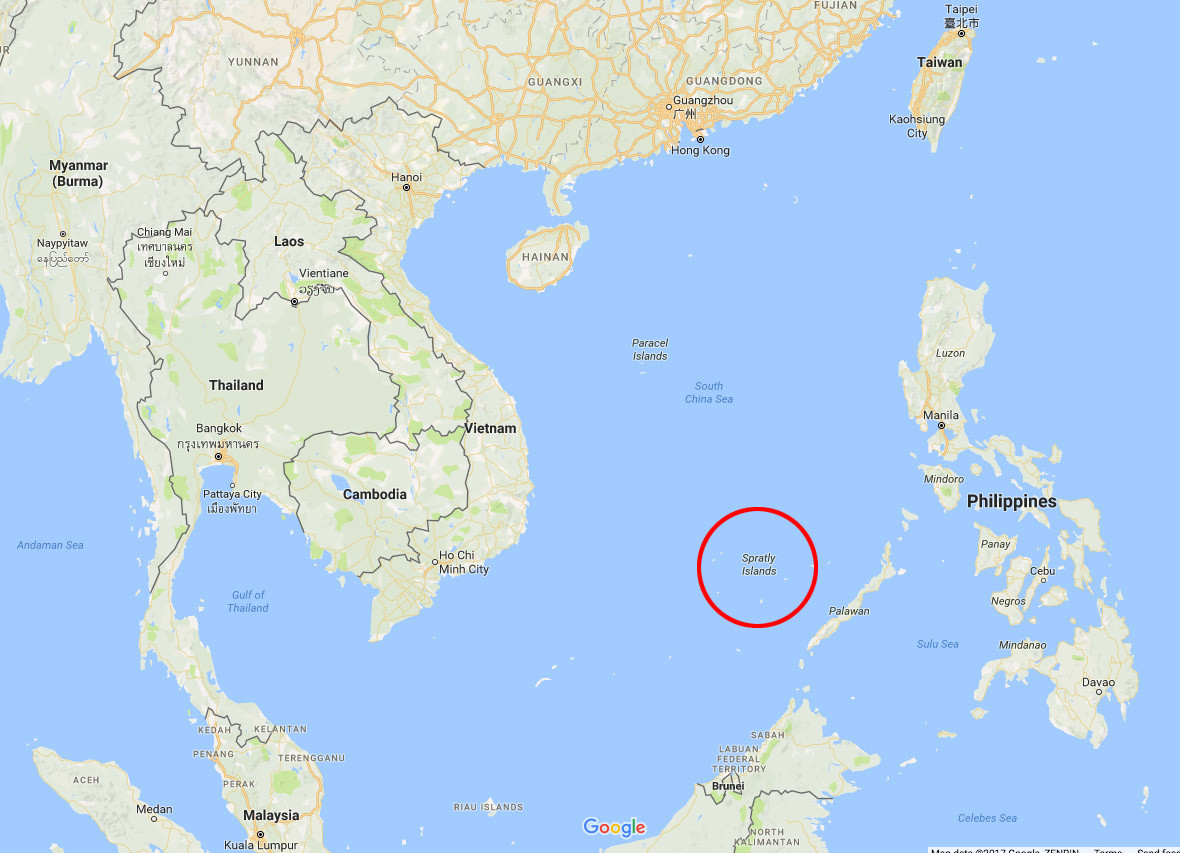 The United States has criticised China's build-up of military facilities on the artificial islands and is concerned they could be used to restrict free movement through the South China Sea, an important trade route. Last month, a US Navy warship sailed within 12 nautical miles of Mischief Reef in a so-called freedom of navigation operation, the first such challenge to Beijing's claim to most of the waterway since US President Donald Trump took office.