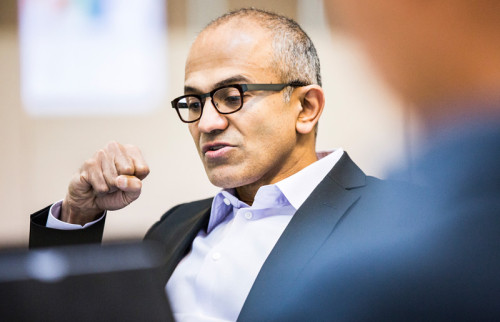 After what seems like an eternity (in tech terms at least), Satya Nadella was announced on Tuesday as Microsoft's new CEO, becoming only the third man to hold the position in Microsoft's 39-year history.
While his success or failure in the position will ultimately be judged by Microsoft's customers and shareholders, his two predecessors have both spoken about his appointment in glowing terms, suggesting the company is in safe hands and has a bright future.
Bill Gates
Gates, co-founder of the company, has stepped down from his position as chairman to take up a role as Technology Advisor, seen as a way to help Nadella's transition.
Gates said he was "very excited" about the appointment of Nadella, saying the Microsoft veteran was a "strong leader" which the company will need as it tries to change from a software-focused company to a devices and services company.
Gates said Microsoft has a history of capitalising on trends such as the graphical user interface and the internet, and it needs "to innovate and move forward" if it is to continue taking advantage of future trends, adding that "Satya's got the right background to lead the company during this era."
Nadella has 22 years' experience within Microsoft across many divisions which will be crucial if Microsoft is to capture the opportunities offered by cloud and mobile. Gates alluded to these openings by saying "rhe opportunity for Microsoft is greater than ever before."
Speaking of his own new position, Gates said he would be "substantially increasing the time I spend at the company" adding that over a third of his time will be spent meeting with product groups helping to "define the next round of products."
Steve Ballmer
Steve Ballmer announced in August that he would be stepping down as Microsoft CEO – a position he has held for 13 years – once a replacement had been found. It means that Monday, 3 January was Ballmer's final day as Microsoft CEO.
Speaking on video about the Nadella appointment, Ballmer was typically effervescent, saying he was "so excited today" that a "Microsoft veteran", a "proven leader" with a "strong technical background" and a "remarkable ability to see opportunities in the marketplace" had been appointed as his successor.
Microsoft is in "good hands" Ballmer said, and the "future of Microsoft is incredibly bright" with Nadella at the helm.
He added that he was open to helping Nadella "in any way he can" but he will no longer have a specific role within the company.
"I know Satya will lead this company into the future and that future is going to be bright with innovation, with growth, and with impact in the market and on the world."
Ballmer signs off in his usual understated way, saying: "I love this company and today couldn't be a better day."