Saudi Arabia counted the cost of falling crude prices as the world's biggest oil producer saw its deficit swell to 367bn riyals (£65.7bn, €89.18bn) this year. In the first budget under King Salman, who was crowned in January following the death of his half-brother, King Abdullah, the kingdom said revenues reached 608bn riyals, down 15% on official expectations.
Spending was 13% more than forecast, hitting 975bn riyals, the country's Council of Economic and Development Affairs said.
"Our economy has the potential to meet challenges," King Salman said in a speech, adding that the 2016 budget launched a phase in which his kingdom would diversify its revenues.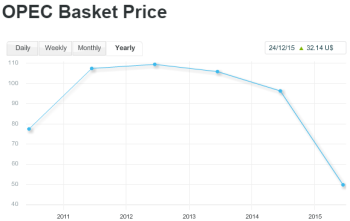 Since hitting a five-year high in March 2012, oil prices have plunged from $125 (£83.90, €113.88) a barrel to just $38.17 on today's market.
The majority of the increase in overall spending was on salaries to civil and military employees. Spending on security and military projects hit 20bn riyals following the country's military intervention in Yemen.
Next year's budget projects spending of 840bn riyals. The original budget plan for 2015 projected spending of 860bn riyals. Revenues next year are forecast at 514bn riyals, down from revenues of 608bn riyals, in 2015.
The country's finance ministry also outlined other reforms including "privatising a range of sectors and economic activities", although it did not give details.
The government plans to introduce a value-added tax in coordination with other countries in the region, and raise taxes on soft drinks and tobacco, the ministry said without giving a timeline.