Scarlett Johansson is stepping down as ambassador for humanitarian group Oxfam International after being condemned over her sponsorship for an Israeli company that operates in the West Bank.
The star's spokesman said Johansson has " a fundamental difference of opinion" with Oxfam International.
The group opposes all trade from Israeli settlements, which are illegal under international law, and it says deny Palestinian rights.
"Scarlett Johansson has respectfully decided to end her ambassador role with Oxfam after eight years," the statement said. "She and Oxfam have a fundamental difference of opinion in regards to the boycott, divestment and sanctions movement. She is very proud of her accomplishments and fundraising efforts during her tenure with Oxfam."
Johansson signed on as the first global brand ambassador of SodaStream International LTD which came under fire from pro-Palestinian activists for its large factory in the Israeli settlement of Maale Adumim in the West Bank.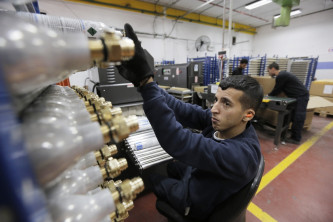 The home drinks carbonation company makes its drink dispensers, CO2 cylinders and bottles at a factory where 500 Palestinians work alongside 800 Jewish and Arab residents of Israel.
The Jewish settlement where the factory is based is part of the land seized by Israel in the 1967 Six-Day War and is regarded by international law as illegal.
SodaStream responded to criticism saying it was the largest employer of Palestinians in the region.
The 29-year-old actress said last week she was a "supporter of economic cooperation and social interaction between a democratic Israel and Palestine".
But Oxfam said it was "considering the implications of her new statement and what it means for Ms. Johansson's role as an Oxfam global ambassador."