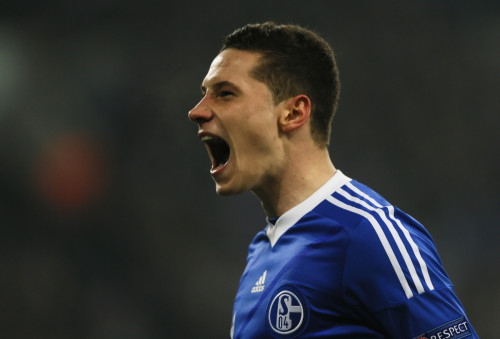 Bundesliga club Schalke have confirmed that they rejected a bid for Julian Draxler in January, believed to have been made by Arsenal.
The Gunners were consistently linked with a deal for the midfielder but the transfer failed to materialise on deadline day with Arsene Wenger only managing to sign Kim Kallstrom on loan from Spartak Moscow.
Draxler is believed to have a price tag in the region of £37m and reports in England claimed the north London club had agreed a fee with the German club but the deal fell through as Schalke refused to part with their biggest asset, halfway through the season.
Wenger is believed to be a huge fan of the midfielder who can play behind the striker or out wide. However, the Frenchman is said to be interested in converting the player to a striker in the same vein as Thierry Henry and Robin van Persie.
It is not a distinct possibility given the 20-year-old's physique and will be a major addition to the squad if the Gunners manage to get him next summer.
"I can confirm that there was a request. It had the dimension of a transfer that you don't do any day of the week. It was a decent deal, but insufficient for us to accept," Schalke sporting director Horst Heldt said.
"The time will come for him to change clubs, but it hasn't happened now and I don't necessarily think it will happen this summer. However, with his quality, Julian is unstoppable. He will be a top player in Europe. The rules of the game are clearly defined for the summer. Someone must have the courage to do it" he added.
Meanwhile, Draxler has revealed that he has no qualms about Heldt rejecting the offer, stating that it proves he is respected at the club.
"It is true that there were offers on the table for me during this winter window. Obviously I'm not going to say who from, but there were offers. It shows how much I'm appreciated at this club if Horst Heldt rejects offers without me being asked. Of course I'm happy about that," Draxler said.