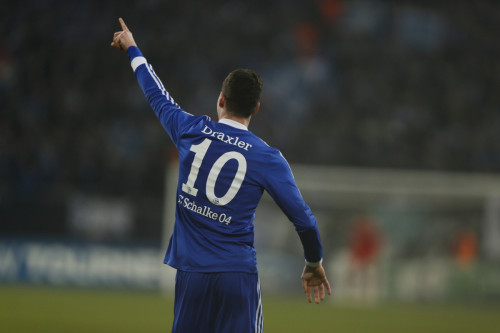 Julian Draxler's proposed move to Arsenal took a giant stride forward after Schalke boss Jens Keller revealed he is planning for life without the German international given the perilous nature of his future at the Bundesliga side.
Draxler was heavily linked with a move to the Gunners in the January transfer window but the two clubs were unable to agree a deal, with Schalke holding out for a fee approaching the 20 year old's €45.5m release clause.
While Schalke have shown few signs of reducing their asking price the club are consigned to losing Draxler in the immediate future and coach Keller says he faces an impossible situation given the uncertainty over his role with Arsenal prowling.
"I am delighted that we have him on board for the second half of the season but, because of his clause, he can leave when a club puts the money on the table," Keller said. "That's why I can't plan with him, because it is just not in my or our hands."
"It's a god-awful situation when, as the coach, you don't know whether such an important player will move on, but Julian was injured at that time, so at least any unrest did not necessarily affect the other players," he said.
"It would have been bad if we didn't have one. When you have to replace a player like Julian, you had better be prepared."
"He's young, but has made over 100 competitive appearances for Schalke," he said. "Others don't achieve that in five, six years. That's why he is very experienced already, and has shown his superior qualities often enough, although his youth shows in his consistency."
"It's clear that all the talk about his €45.5m release clause and the interest from top European clubs leaves its mark on such a young lad," Keller said. "The hype around him last summer was huge. He must learn to cope with that, and also that failing to perform at less than 100% is not good enough for him."
Arsenal have been heavily linked with making a marque summer signing to follow that of Mesut Ozil last summer, who joined the club from Real Madrid for a record fee.
Though the club have been heavily linked with a striker, reports have suggested that Wenger would give Draxler a central role in his attack and mirror the approach he used with Robin van Persie who began his Arsenal career as a wide player.