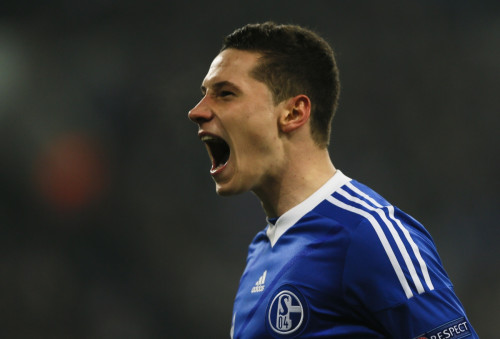 Schalke sporting director Horst Heldt has insisted Julian Draxler will stay at the German club until the end of the season - but the club could be tempted by a "serious offer."
The Gunners were reportedly on the brink of sealing a deal for the 20-year-old midfielder after sending a delegation to Gelsenkirchen last Monday, in the hope of completing the transfer before the end of the transfer window.
However, the Schalke sporting director has denied that meeting and during a press conference insisted that the player is set to remain at the club until the end of the season.
"We are happy to have such a world class player in our lines. I am very convinced that Draxler will be playing for us in the second half of the season but most probably beyond that," he told ESPN.
"We are not interested in letting Julian leave, and he has also not approached us about a transfer. I checked my office if someone was waiting for me, but nobody was there."
However, Heldt continued by admitting that "of course, there are always other clubs interested in him, and should someone make a serious offer for him, then we as a club have to professionally consider that. That does not only apply to Julian Draxler, but to every other player."
According to the reports the negotiations between both clubs have been on-going during the last week and the Telegraph reports that a provisional fee of £36m has been agreed between the two clubs.
Furthermore, the reports add that Draxler would see his salary increasing at the Emirates from his current £45,000 a week to £80,000.
Arsene Wenger is keen to secure the deal before the transfer window closes as Aaron Ramsey is expected to be out for another four to six weeks while Theo Walcott will be out for the rest of the season.
Meanwhile Matthieu Flamini will also miss three games after being shown a red card in the draw at Southampton.
Draxler has been out of action since 11 December due to an ankle injury but Schalke team doctor Hans-Wilhelm Muller-Wohlfahrt revealed this Thursday that he will be fit to return to action within the next week.
Before that Injury, the youngster played 15 Bundesliga games, scoring one goal and grabbing five assists while in the Champions League he netted three goals in just six appearances.