A New Zealand firm has announced that a personal jetpack similar to those seen in a multitude of sci-fi movies will be available for the public to purchase in mid-2016 for the princely sum of $150,000 (£95,300).
Martin Aircraft Company, based in Christchurch, has been developing the Martin Jetpack since 1980, and after being featured for years on tech journalists' wish lists and top inventions of the 21st century, the finished product is finally almost ready for consumers.
The Martin Jetpack is powered by a V4 200 horsepower petrol engine controlling two ducted fans. Using vertical take-off and landing (VTOL), it can fly at a speed of 74km/h, gaining altitudes of up to 1,000m, for just over 30 minutes at a time.
The jetpack can carry a maximum load of 120kg and the device is designed to help emergency services responding to natural disasters and other critical situations.
Ideal for emergency responders
"I think the first responders will see that as a massive improvement to their capability. So, for example, in the fire services going around to look at the situational awareness of what's going on, perhaps through water security or even search and rescue on beach patrol, something along those lines," Martin Aircraft Company's CEO Peter Coker told Reuters.
"Naturally for the ambulance service getting to a point of importance of rescuing people in the shortest possible time. So there's a lot of uses within that first responder environment."
The Martin Jetpack is able to land on uneven surfaces like rooftops, even if they are covered in wires and TV aerials. It is also able to fly into confined environments, which makes it a good alternative to using a helicopter.
In order to keep the pilot safe, there is a ballistic parachute system that deploys and helps the jetpack to land safely from just a few meters above the ground, and there is also a composite structure pilot module to protect the pilot in the event of an accident.

A 30-year-old dream come true
At the Paris Airshow 2015 from 15 to 21 June, members of the public were allowed to experience what it is like to fly a jetpack.
The flight simulator saw users wear Oculus Rift virtual reality headsets while sitting in the actual jetpack harness at the Martin Aircraft Company stand, and this proved to be a big hit with visitors.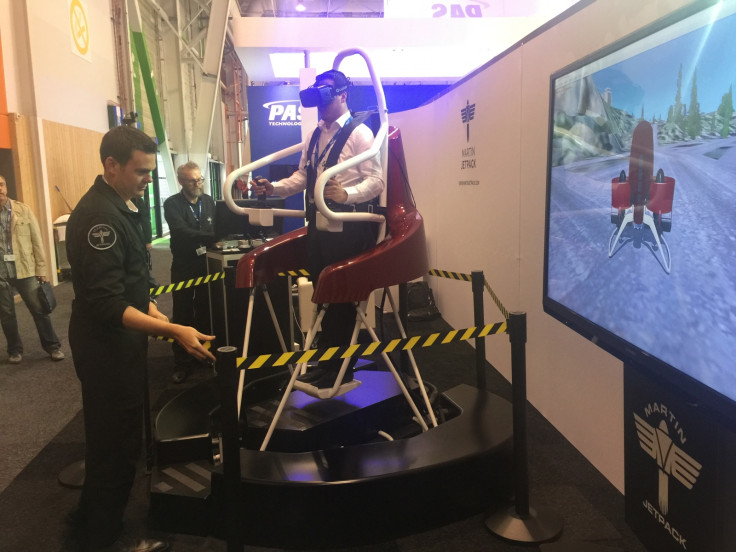 The Martin Jetpack was invented by Glenn Martin, who decided to make a personal jetpack after a night out with friends.
At the time, rocket technology could only fly jetpacks for less than 30 seconds at a time, and the pilot would have to weigh less than 70kg.
Martin weighed 100kg, so he kept working on his invention until in 1998 the prototype he built in his garage was able to lift his wife off the ground when strapped into it.
In 2004, a New Zealand venture capitalist firm agreed to invest several million dollars, and in February 2015, it was announced that Martin Aircraft had raised A$27m (£13.2m, $20.8m) just ahead of being listed on the Australian stock exchange.
The firm is now also being backed by KuangChi Science, a big Chinese entrepreneurial investor, with Martin Aircraft Company joining KuangChi in the HKCo joint venture, which will look to develop and distribute the jetpack in China and Hong Kong when it has been fully commercialised in 2016.