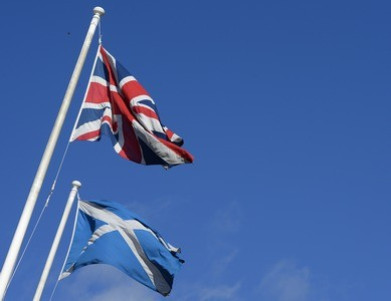 Tory MPs who secretly believe that Scottish independence would hand them a perpetual majority in Westminster have been branded "foolish" by former Conservative Scottish secretary Lord Forsyth.
Forsyth, a long-standing anti-devolutionist, claimed there were a number of Tories who privately thought that the breaking up of the union would benefit their party electorally because if Scottish constituencies had been excluded at the last election, the Conservatives would have won with a majority of 21.
Labour held 41 seats north of the border compared to just one for the Tories.
"There are number of foolish people in the Conservative Party in the south who are keen on independence," said Forsyth.
"Labour thought that by creating devolution they would have permanent power in Scotland. I don't think political parties can establish support by trying to gerrymander the constitution - the voters are smarter than that."
It is true that there are those in both Labour and the Conservative parties who believe that if Scotland becomes independent, depriving Labour of a large number of Westminster seats, the party could never win again in Westminster.
But the fear was based on the belief that the days of large parliamentary majorities were over and Britain was likely to be in hung parliament territory in the future.
Since World War II, Labour only needed Scottish votes to win power in the 1950, 1964 and 1974 elections.
And Tony Blair would still have won his three large majorities in 1997, 2001 and 2005 even without Scottish votes. In 1997 it would have been 40 less at 139, in 2001 it would have been 38 less at 129, and even in 2005 it would still have been a majority of 43 instead of the 66 achieved.
So there is no guaranteed link between Scottish voting habits and the creation of the Westminster government. If, however, there was a close election race it could tip the balance in favour of the Tories.
But as Forsyth argued there were plenty of other factors that would come into play during an election campaign that would have an impact on the outcome.
For example, after leading the anti-independence campaign and then losing it, there may be a wider backlash against the Tories across England, with Ukip gaining support.
Labour also claimed that it was strengthening its position in the north of England and could still manage to win a Westminster majority without Scotland.
The planned boundary changes, abandoned after the Liberal Democrats refused to support them in retaliation for the Tories blocking Lords reform, would be likely to have had a bigger impact on Labour as the current system is weighted in the party's favour.
John McTernan, former aide to Tony Blair said: "Since 1987 the Tories have been losing votes in the cities and the north. They are becoming confined to the south and the country. If Scotland left, the north would become the new Scotland."
David Cameron was also criticised by Lord Forsyth who said it was wrong for the prime minister to promise more powers to Scotland for the price of voters rejecting independence by voting "no" in the referendum.
This could also harm the union according to Forsyth.
Scotland is set to vote whether it will remain part of the UK in September 2014 that could break up the more than 300-year old union. There have been heated debates about the direction of Scotland's economic future based on the vote.
In September 2013, Chancellor George Osborne said that Scottish independence would cost every family in Scotland £2,000 (€2,335, $3,192).
Ahead of a 2014 referendum on independence from the UK, The National Institute of Economic and Social Research (NIESR) said in order to meet EU debt-to-GDP rules, as well as maintain borrowing costs at sustainable levels, an independent Scotland would need its own currency and annual fiscal tightening of 5.4% over ten years.
Recently, Theresa May, the home secretary caused controversy when she said that an independent Scotland would be increasingly vulnerable to security threats if it left the UK.
May tabled a report claiming the SNP's plan to spend £2.5bn (€2.9bn, $4.0bn) a year on Scotland's defence budget was not workable.
Additional reporting by Michael Klimes